Whether you're new to online advertising or you've struggled with Google Ads in the past, don't worry. At the end of this article, you'll find that Google Ads is an easy way to get your money's worth when used properly.
And I know you might think it's hard to compete with big corporations that are fighting over the same keywords. As PPC and Paid Social Specialist, I can tell you that you can achieve good results with Google Ads, even on a tight budget.
In this blog post, I'll explain how.
[DOWNLOAD]
Before You Get Started
The best way to start your campaign off on the right foot is to set your maximum daily budget. If you aren't sure, ask yourself how much you can spend in a month.
Although there's no minimum budget on Google Ads, I recommend starting with a monthly budget of no less than $1,500 - that's $50 per day. However, the final cost depends on your industry and what you'll be advertising.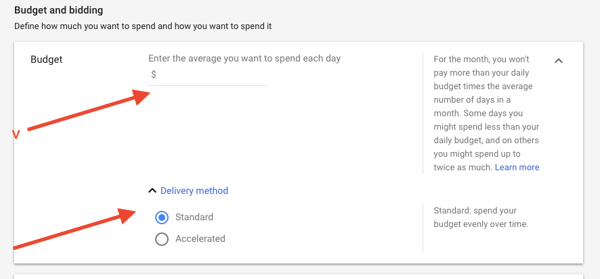 If you're in a competitive market and working on a small budget, you'll want to get a sufficient number of clicks per day, which in return will give you more data to work with. Why is this important? Because the more valuable data you collect on clicks, the more accurate your decision-making when it comes to optimizing your ad campaigns and keywords.
According to WordStream, the average small business using Google Ads spends between $9,000 and $10,000 per month on their search campaigns.
How to Choose Your Keywords Effectively
What's great about Google Ads is that it gives you complete control over your targeted keywords. When you're working with a low budget, you need to choose which words you want to target in your ad. This is where keyword match types can help.
Keep reading to learn the 3 keyword match types you should know about.
3 Keyword Match Types
Keyword match types tell Google which searches to trigger in your ad. Let's take a look at each one:
Exact match
Phrase match
Broad match
1. Exact Match
By using exact match in your campaigns, your ad will show to someone who is searching for your exact keywords, including variations that share the same meaning as the keyword. For example, if you use the keyword "cloud software", your ads will show on searches for "cloud software."
2. Phrase Match
Similarly, phrase match allows your ad to only appear when someone searches for your phrase in Google. For example, if you use the keyword "tennis shoes", your ads may show on searches for "red tennis shoes."
3. Broad Match
Your ad will reach the widest audiences whenever someone searches any word in your key phrase, in any order. This includes misspellings, synonyms, singular or plural forms and other relevant variations.
So, Which Keyword Match Type Should I Choose?
Great question. With a tight budget, it's best to focus on exact match, phrase match or a combination of both. These match types will help you target user searches more precisely.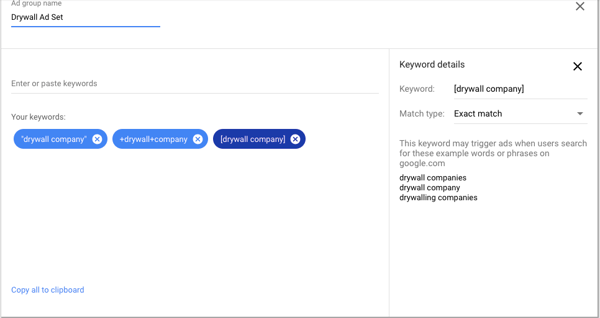 Photo credit: Adlibweb
Here's an example:
Let's say you're targeting the keywords "office chairs" and you have a daily budget of $100 for your Google Ads campaigns. It's safer to set most of your keywords in your campaign to exact match. Why? Because you're targeting exact words that people are searching for ("office chairs") and you want Google to trigger what you're selling.
And broad match? I don't recommend touching this keyword match-type on a small budget because it's designed to capture the broadest possible audience. Think of it as giving Google free reign to find keywords, which might not match the intent of a search query. This can bring down your click-through rate and ultimately increase your cost per click.
Short-tail Keywords vs. Long-tail Keywords
If you haven't got much money to spend, it's hard to win with short-tail keywords. You'll be competing against wealthy organizations in the world of paid ads. Do you really want to blow all your budget on expensive cost per clicks that will ultimately give you a low conversion rate? Probably not.
So, what's the ideal scenario here? What you want is a higher conversion rate, lower cost and lower competition. You can achieve this by using longer keywords. To make the most of long-tail keywords, find a niche word that you can link to the very specific thing you sell, such as "leather chair cup holders" rather than "chair cup holders" to increase conversions.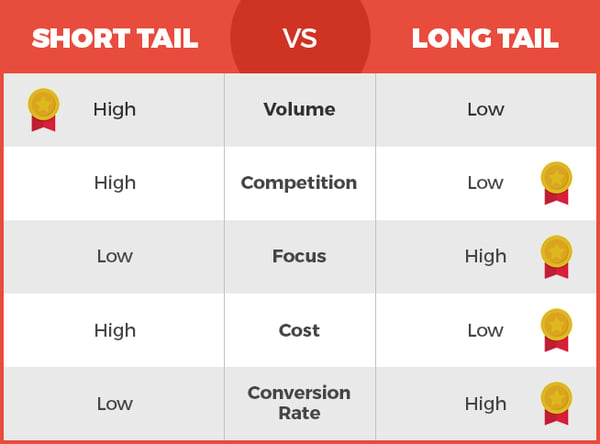 Photo credit: SEOPressor
Choosing a Good Bidding Strategy
To run your ads, you'll need to decide how you want to bid on keywords.
If you want full control over your keywords, your best bet is to use manual bidding. This way, it's easy to make daily changes to your keywords based on performance.
Your other option is to hand the wheel over to Google's automated bidding. You tell Google how much you want to spend each day and it takes care of everything for you. Sounds great, right? While this might seem like a useful "set it and forget it" strategy, it could drain your budget fast. However, it's a good option for small businesses that don't have an in-house marketing team.

How Can I Drive More Conversions?
It's possible to have an effective keyword strategy and still have low conversion rates. There are two ways you can optimize your Google Ads campaign to drive more conversions:
1. Add site links to your ad
Ever seen a search result on Google that looks something like this?

As you can see, this ad provides additional links at the bottom that describes the various products the company offers. Here's why this helps to bring in more traffic to your website faster.
In many cases, ads that show up in search aren't always exactly what the user wants. They might want to, say, shop all products, learn the company's history or get in contact. So, adding additional links to your ad is a great way to get people on your site quickly. Plus, it saves them a click by giving them more options right off the bat!
2. Improve your landing page
Your landing page is where searchers will arrive at when clicking on your ad. You have just a few seconds to capture their attention, so make sure your landing page clearly explains what it is you're trying to get the them to do.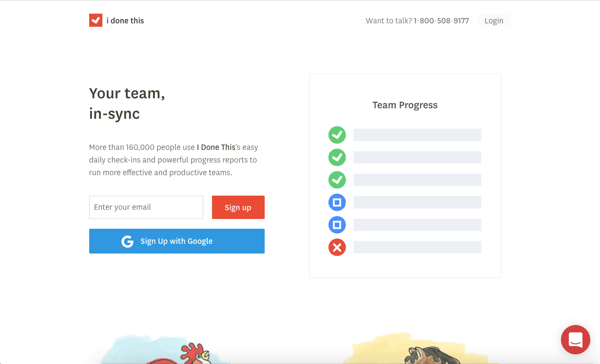 Here are a couple of things to keep in mind:
Your value proposition should match the initial messaging on your ad as well as your prospect's intent. And because a lot of people don't bother scrolling much anymore, it's a good idea to place your content above the fold to maximize conversions.
You'll also want to make your landing page easy to navigate. Long gone are the days where landing pages wouldn't offer visitors a way out, no navigation choices that could lead them to easily browse your site. Offer visitors more than just the primary goal of the page, such as a link to your company phone number, your main homepage via a hyperlinked logo or social media channels.
Over to You
You now have lots of tips and ideas to rock your own small budget Google Ad campaign. Remember, with a clever strategy and smart spending, Google Ads can provide a great return on investment.
Get in touch for more information on all things PPC or feel free to leave a comment below!