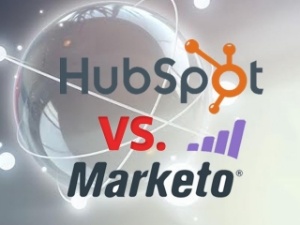 Marketing automation (MA) is the wave of the future, but what partner do you want by your side for the next marketing milestone? In a race to select the best provider, you don't want to come in second place. There is no denying the benefits of MA software; in fact, industry analysts predict that the market will more than triple by 2020.As far as inbound marketing packages go, it is incomplete without an MA solution. Marketing automation software can change the whole scope of a business, improving sales, customer service, and even the culture of a company.

With it holding such a large stake in your business success, you need to make sure your business is finding the right match. Many MA vendors are competing to stand out in the space, and these businesses will obviously try to win you over. In order to go into it with both eyes open, you need to know the facts. Before selecting the right product, you need to set your priorities.

Two of the most powerful options for MA are HubSpot and Marketo. Both of these industry leaders have a strong customer presence, high satisfaction rates, and a number of similar features. Comparing HubSpot vs. Marketo side by side will help give you a more straightforward outlook so your business can find the solution that best fits its needs. Here is an in-depth comparison of the two to help you make the right decision!

Marketo

Marketo was founded in 2006, with over 2,300 customers and over 100,000 users worldwide. It has grown significantly since then and is expected to continue growing. It is broken down into four different modules: marketing automation, consumer engagement, real-time personalization, and marketing management. Customers have the option to purchase the modules separately, or as a package. A benefit of this is that it allows you to create a custom solution tailored to your business, and you won't be paying for added services that you don't use. The different modules are priced in tiers according to scale: Spark, Standard, Select, and Enterprise.

HubSpot

HubSpot was also founded in 2006. While HubSpot has a number of similar options as Marketo, it houses all of its capabilities in a single system with sales applications included as free add-ons. Some businesses see this as a benefit because it's offered in a seamless system with a unified functionality. HubSpot offers a number of packaged integrations with popular business apps to allow for further customization. The pricing is similar in three tiers including: Basic, Professional, and Enterprise. HubSpot also offers a more inexpensive option for small businesses. At the enterprise level, the two are comparable in price. And while HubSpot offers all of its functionalities in one package, the add-ons with Marketo could mark up the product even more.

Usability

While MA is a rapidly growing field, some businesses may not have a department dedicated to the program. As a result, companies need a product that is usable, intuitive, and straightforward. Marketo specializes in custom solution based on the enterprise, so it can be a little more complex to operate. The solutions are all custom to business needs, and a more experienced marketing specialist may be better suited for the position.

If your business is trying to implement marketing automation for the first time, a solution with a more native approach could make the process more seamless. HubSpot provides a range of marketing functions that are easy to deploy for a person who may not have a lot of previous experience in the field.

CRM Integration

Marketing automation and customer relationship management are like bread and butter. Who wants a delicious piece of bread without the right toppings? As a result, most businesses look for an MA approach that will suit both CRM and the marketing needs. HubSpot offers a built-in CRM, and its basic integrations include Salesforce, Sugar, MS Dynamics, and Zoho. Marketo doesn't provide a built-in CRM module, but it's built on top of the Salesforce platform, so the integration is seamless.

One of the strongest benefits of an MA system are the insights that the data provides. Tracking the customers, interactions, and other deliverables involved in the campaign is vital to success. Without data analytics, the MA tool doesn't offer actionable items that allow you to improve your inbound marketing strategy. Marketo provides a deeper and more tactical approach to analytics. It gives customers the opportunity to analyze predictive analytics and other forecasts based on CRM data and content marketing.

While there are some significant differences between Marketo and HubSpot, you need to know the facts before selecting the right MA software for your business. Depending on your priorities – small to mid-size business looking for more viewers, or a large enterprise – both have valuable offerings. Now is the time to improve your inbound marketing services, so get on board with the right MA tool!

Not sure what to do? Let's try out HubSpot for 30 days!