Tell us about your email marketing workflows, and how they're set up. Haven't tried a workflow yet? Not sure how to get started? Don't worry, we'll cover what you need to know about using this marketing automation method that helps you save time and engage your existing contacts.
What Are Email Marketing Workflows?
Before we get into the details, we thought we'd give you a bit of background about automated email workflows. What are they and why do you need them?
It's simple:
They help you convert leads into customers
They help you increase your bottom line with your existing customers through upsells and additional purchases

They help you delight customers with educational resources, surveys, event invitations, updates, product adoption - all to keep them interested in you
How to Set Them Up
Email workflows need to be set up using marketing automation software such as HubSpot. Here's how it works.

Workflows get triggered by the actions your contact makes when they interact with your content. You can define rules that trigger workflow actions in a number of ways. For example, when a contact gets added to your email list, downloads content from your website by submitting a form, clicks a link in an email, or views a page on your blog.
That's just the beginning of what you can do with workflows, but we'll save that for another post. ;-)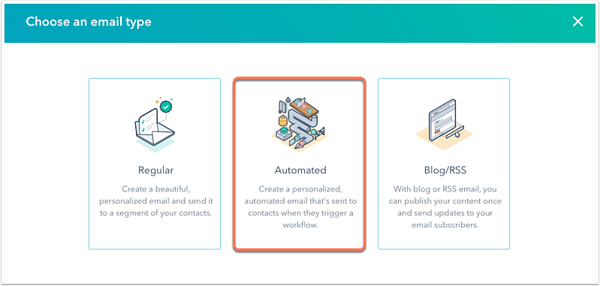 See steps to create automated emails to use in workflows with HubSpot
4 Examples of Email Marketing Automation Workflows You Can Try
1. Welcome Workflow
Here's a great way to kick off your relationship with a lead/subscriber on a positive note.
Did you know that 75% of subscribers expect a welcome email after signing up? Also, keep in mind that 90% of them go cold within an hour. That's why you need to ensure subscribers remember you and keep them engaged after they opt-in.
Here's an example from HubSpot. The first email is sent when someone subscribes to their blog:
First email in the workflow
Last email in the workflow
A warm welcome email should also tell the subscriber what they can expect from you and a little about what he or she will receive in the next days. This will set the right expectations towards your series of welcome emails.
Following the first basic welcome email, the next emails in your sequence can provide helpful, relevant content and resources based on their preferences or interactions. It's recommended to use 3-5 emails in a workflow.
2. Lead Nurturing Workflow
Has a contact downloaded an offer from your website like an ebook or webinar? If so, here's a great opportunity to provide them with a little bit more. With workflows, your goal is to guide them further down the sales funnel to become a customer.
Set up workflows that provide content like free trials, product demos, or customer success stories/case studies.
This email from Instapage addresses a problem their audience faces and delivers a solution.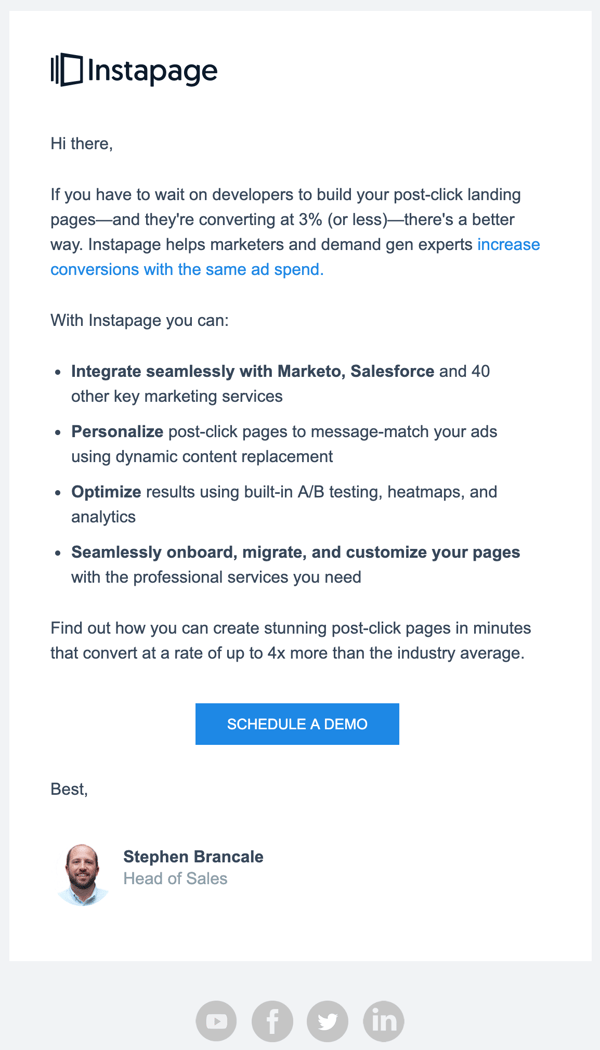 3. Upsell Workflow
It's easier to upgrade or upsell a customer that's already purchased from you. A workflow can definitely help with that without putting them off. Here's an example of one email in Vimeo's campaign:
Create a workflow that recommends complementary add-ons based on what they've already purchased. You can do this by creating lists of contacts that have bought a specific product or a combination of products. It's important to continue communication with existing customers to ensure they keep your brand top of mind and capitalize on opportunities to increase your revenue.
4. Contact-Based Workflow
Create a contact-based workflow that focuses on a specific goal. For example, when an enrolled contact meets a workflow goal criteria that you've set up, such as a contact becoming a customer, they are automatically unenrolled from the workflow and will be counted toward the workflow's goal conversion rate.
Common workflow goals include:
Moving contacts to a new lifecycle stage (e.g., from lead to customer)

Contacts taking action (e.g., submits a form, clicks a specific call to action buttons, etc.)

Contacts reaching a number of interactions with your marketing content like page views, form submissions, email clicks, etc.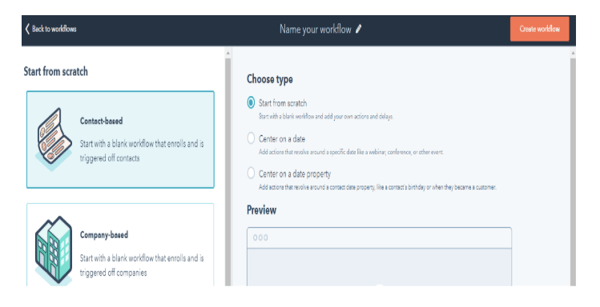 Interested in implementing HubSpot in your business to boost your sales and marketing? No problem, we can help you out. Click below and get started: