You might be operating a business on a limited budget, and can't afford to shell out thousands of dollars on building a marketing dream team. So, how do you do it without breaking the bank? Well, you can take the cost-effective agency route and let the experts do the grunt work for you. Or, you can benefit from using HubSpot Marketing free CRM to save time, money and grow your business. All you need is the kind of focused strategy that smart marketing requires.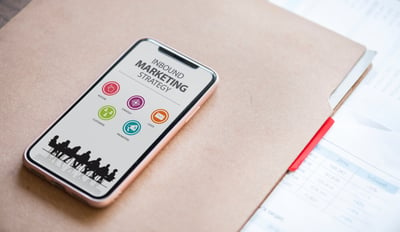 Why Go HubSpot?
You have everything under one roof: a content management system (CMS) for blogging, SEO tools, email marketing solution social integrations/scheduling/tracking, analytics, and automation. Also, you don't need to be tech-savvy to use HubSpot's Customer Relationship Management (CRM) features. To see what it looks like, click here for a short video.

Let's explore what each feature provides and some of the limits in HubSpot's free CRM.
What Do You Get?
Lead Generation Form
A form captures information about the people visiting your website. It's basically the whole purpose of a landing page. As marketers, we need to collect information about our prospects in order to turn them into opportunities.
What are form best practices?
To create an effective form, you have to ask the right questions, so you can better segment, nurture and market to your captured leads. Usually, a standard form asks for the following information:
First name

Last name

Email address

Phone number

Company name

Number of employees

Job role
Analytics
Easily track which traffic sources or pieces of content on your website are driving the most conversions. The moment a visitor lands on your website, you'll know what pages they visited, what content they downloaded and how long they stuck around. This is especially helpful if you have a sales team because they can follow up on leads who downloaded your content but haven't taken further actions to move forward down the pipeline.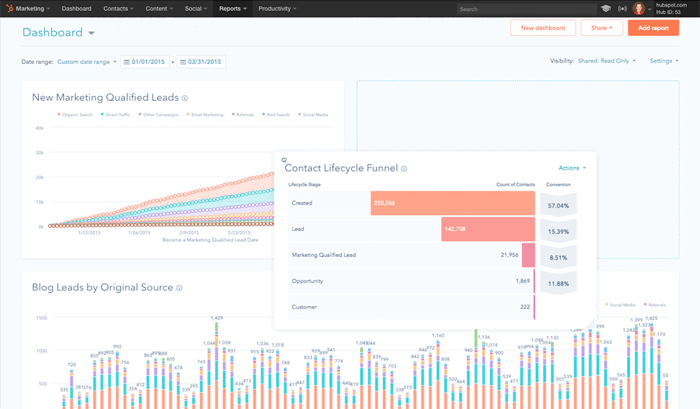 Here's a snapshot of your HubSpot Marketing Dashboard. Photo Credit: HubSpot
Reports
Built-in comparison graphs show you how your marketing is performing on a monthly or quarterly basis. You'll know what's working and what's not, and learn what the best sources of traffic are - organic searches, social, referrals, direct, or paid.
Email
You get access to a complete email marketing platform that includes workflows, great analytics, lists and contacts. You can even drive email recipients to your landing pages which then guides them into a predefined workflow after they register to your offer.
Social Promotion
What's inbound marketing without social media? Probably not as effective, that's for sure. HubSpot's tools for social promotion are integrated.
What Are Your Limits?
If you're using HubSpot Marketing CRM, there's a limit of 100,000 records, such as contacts, companies, and deals. Also, you get the first 100 contacts for free. After that, there's a $100 monthly charge for every additional 1,000 contacts.
Try It for Free
Do you need HubSpot Marketing? In short, yes. If you want to accelerate your pipeline with inbound marketing and automate your marketing tasks, it's a great platform. Wondering if it's the right fit for you? Download your free 30-day HubSpot trial!