Using emojis in email subject lines may not work for all businesses. It all depends on your brand, reputation, industry and target audience. So, what are they good for, anyway? Glad you asked!

Emojis in emails…
…are a good way to add a personable touch or humor to a digital conversation.
…can help you stand out against the 121 emails an average office worker receives every day.
…can boost open rates by 56% compared to text-based subject lines, according to Campaign Monitor.
[DOWNLOAD]
To Emoji or Not to Emoji?
Before you use emojis in your online business communication, you need to think about the possibilities in which they could negatively affect your brand. For example, if your organization is an authority within your sector, regulated or sticks to a consistent brand identity, emojis might not be the best choice to use in your emails. And other times, the emoji you choose (even if it's an innocent smiley face) may not be received in the spirit it was originally intended.
Here are a few points to consider.
Would using emojis suit your brand?

Would they enhance your brand?

What companywide rules would you apply with their use?
"A brand is the set of

expectations

,

memories

,

stories

and

relationships

that, taken together, account for a consumer's decision to choose one product or service over another."- Seth Godin
So, Do They Work?
According to a recent study by Leanplum, emails containing emojis see a 66% increase in open rates. The company analyzed 300 million mobile message deliveries between 2017 and 2018 to find out the level of engagement and impact derived from the use of emojis.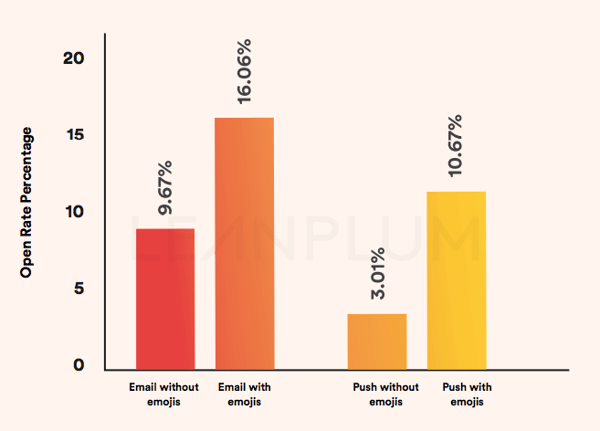 Check out this article for tips on how to use emojis in a subject line without getting sent to the spam folder.
Here Are 5 Best Practices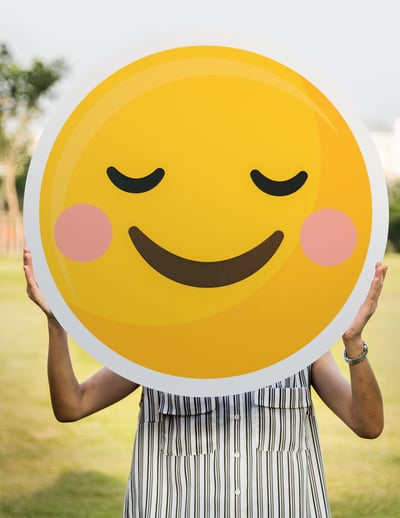 1. Keep it positive

If your goal is to humanize your brand using emojis, stick to positive ones in your email campaigns rather than negative ones.

2. Don't overdo it

Using an emoji in your business communication is a judgement call. But if you do, use them sparingly. You'll want to avoid spam filters or lowering your open rates.

3. Stay on brand
As we've mentioned before, emoji marketing can be risky business. Make sure they're appropriate for your brand and audience.
4. Use them once you establish a personal relationship

While emojis can enhance engagement, they can also give off the impression that you're content shouldn't be taken too seriously. As a word of caution, it's best to use them after a relationship has been established with a customer, otherwise, they might not work in the way you were planning.

5. Perform A/B testing
A/B testing lets you compare two different versions of an email sent to different recipients to see which one achieves the highest open rate. In this experiment, you can have one email with an emoji (in the subject line) and one without. You can also use A/B testing to see which emoji works best for your emails.
Have questions about email marketing strategies? Chat with us!