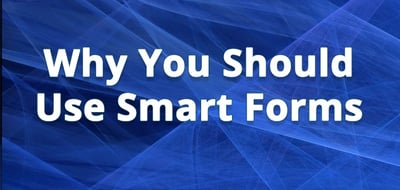 When you initiate engagement with a prospect client on your website, you're just a virtual handshake away from capturing their information in exchange for your product or service, e.g. eBook download, webinar registration, even a membership sign up. Generating leads is every marketer's lifeblood. And smart forms are the cherry on top of any business objective to drive sales and boost conversions! Here's the magic.
It can be added to any content web page to capture leads. It's a more streamlined, customized way to convert visitors into leads as it requests personal information, and details about their internet search activity and behavior. We give you undeniable reasons smart forms are a surefire way to increasing lead generation and why they are essential to your digital marketing strategy.
Move Prospects Down The Sales Funnel
Every online business needs to build a sales funnel in order to convert website visitors into paying customers. Online forms allow you to move prospects from one stage to another until they are ready to purchase. Check out 5 more ways to move visitors and leads down the sales funnel here.
Identify Your Biggest Prospect
Prospects that show some sort of interest in your company whether by subscribing to your newsletter, or downloading your content, are opening the door for you to market to them. This is a great way to segment your audience and find out who your biggest prospects are! Now that you've acquired information about them including an email, send them relevant content (newsletters, events, or products specific to their interests) and then take stock of the high (or low) open rates and click-through rates.
Get Up Close And Personal
Forms can also be personalized and tied to your mailing list. This way, you can build a relationship with your prospect leads and they will notice the effort. Here are just a few different ways to get personal:
Use their name in the form title, i.e. "Hey Linda!"
Mention within the form that they recently downloaded content from your website and suggest a different piece of content that caters to their interest.
Learn More About Your Target Audience
Do you know who your target market is? Acquiring information is one approach to getting to know your ideal customers better in order to think like them, i.e. demographics, profession, goals, interests, and more. Start building relationships by capturing rich data so that you can segment, target, convert, and nurture.
Smart Forms Think Smart
They can be set up so as to support different types of devices - mobile, tablet, or desktop. Example, forms can recognize if a visitor is using a mobile device and change its look to fit the screen. So, as people are consuming information on the go, the form can configure itself to appear more condensed and shorter depending on the device. Your mobile users will thank you for it! HubSpot, for example, also gives the option to choose the type of content to your forms based on your contact's country and preferred language as well as lifecycle stage for your saved contact list and customers.
Gain Valuable Insight On Your Prospect As An Individual
What if the same prospect wants to download more than one piece of content on your site? The optimal thing to do is use a form to make it easy for them and advantageous for you. How? With each new form submission, it can progressively profile each prospect; it will contain different questions each time the same prospect downloads your content. The more info you collect on a prospect, the more personal you'll get. That's something your sales team can sink their teeth into.
The Dynamic Way

The key to higher lead conversions is keeping your prospects engaged, true to any online business strategy. With dynamic forms, the content can be tailored to the individual and most importantly, relevant. Formstack explains: "Online forms can automatically show or hide questions based on how users respond. When it's in use, visitors only see the questions that are relevant to their previous answers. Dynamic forms translate into higher conversion rates because users aren't intimidated by a long form with unnecessary questions."
And there you have it! If you're working with smart forms, we'd love to know how you're using them, and/or if any of these tips have worked for you!