Pitching to leads that aren't ready to buy, or that may never be ready, is wasted effort and time. Your sales team should instead be focusing on guiding leads through the funnel once they are ready to purchase.
Tech Target defines a sales qualified lead (SQL) as a "prospective customer that has been researched and vetted, first by an organization's marketing department and then by its sales team, and is deemed ready for the next stage in the sales process."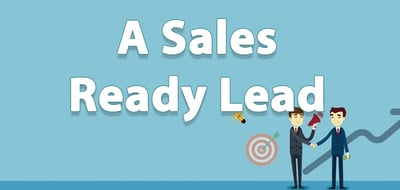 The role of marketing is to generate potential customers and leads. Once you've captured a lead through a landing page or content, your marketing efforts should nurture that lead and prepare them to be passed along to sales. After the lead has gone through a predetermined process, or taken certain actions, they can be considered a sales qualified lead.
Setting up a lead scoring strategy will allow you to measure a lead's level of engagement with your company and determine how that translates into readiness to purchase. A CRM should be used to track behavior that indicates sales-readiness. You will also need to define each stage of the buyer's journey to help with lead scoring. In inbound marketing, the buyer's journey consists of the awareness, consideration and decision stages, but each step should be further developed for your specific company and customer.
[DOWNLOAD]
The main difference between a marketing qualified lead vs. a sales qualified lead is how ready they are to make a purchase. Don't lose out on a customer by contacting someone too soon, or missing someone who was ready to buy sooner than expected. Here are 5 ways to tell you have an SQL and that it's time to pick up the phone and call.
Buyer Persona Fit
Not all customers will fit exactly into your buyer persona mold, but chances are they will have at least a few characteristics in common. Having detailed buyer personas will allow your company to determine if you have an SQL. Based on information about current or past customers, look for patterns in demographics, job titles, years of experience, company size, industry, location or whatever else is relevant to your company. A lead that has these specific characteristics has greater potential to become a customer than someone who doesn't match any of them.
Engage With The Right Content
Forrester predicts that by 2020, 80% of the buying process will occur without any direct human-to-human interaction. So content is even more important for generating leads, and paying attention to which specific materials a lead interacts with is a good indicator of where they are in the buyer's journey. When determining readiness for sales, look for engagement with decision-stage content. This shows that the lead is ready to continue a conversation they've begun by reading your blog or checking out your company on social media. Has the lead downloaded a certain whitepaper or case study, started a free trial or requested a demo? These actions all indicate serious interest in your company and your products.
"By 2020, 80% of the buying process will occur without any direct human-to-human interaction, according to Forrester," says @Rspnsvinbndmktg. Click To Tweet
Website Activity
What a lead does on your website is another way to tell where they are in their buying process, so be sure to see which pages they are viewing. A lead that spends time on pricing pages, product pages or testimonials and customer reviews is likely to be more serious about making a purchase. Time on site and number of pages viewed overall can also help you to score a lead.
They Have A Problem You Can Solve
Not everyone is going to be a fit for your company, and that's okay. Quality leads will have a problem that your company can solve. But if you can't, that just means a lead isn't a good fit. Spending time trying to convince people to buy your product when it won't actually help them will just end up giving a negative perception of your company and increase customer churn. If instead you are honest with a lead and let them know that this might not be the right fit, they'll leave the interaction with a more positive view. And who knows, maybe they'll even refer someone else to you or be in the position to become a customer at a different time. Part of having a qualified lead is actually being able to provide value to them.
Response To Email
Email is a key component of any lead nurturing strategy, so how are your leads responding to the emails you send? Are they opening the emails and clicking through to the content? Do they act on calls-to-action? Email is a platform to continue to educate and provide relevant information to your leads. The content you choose to include can also help determine their readiness to buy. Including a case study or an offer for a free consultation in an email gives leads the opportunity to continue moving along the buyer's journey.
Bonus: They Contact Sales
This might seem obvious, but 90% of B2B buyers say that when they are ready they will find you (Cascade Insights). Even in this situation, the conversation should be about solving the lead's problem, not just pushing your product. Have a plan in place for anyone who contacts sales directly to ensure that they can be closed into a customer.