What may seem like a simple transaction involving a valuable offer in exchange for a prospect's information, actually requires careful planning. Landing pages are a fundamental part of a successful inbound marketing strategy. The purpose of a custom landing page is to generate leads with the help of a smart form.

According to MarketingSherpa, 68% of B2B businesses build landing pages to generate leads for conversion.
What Makes a Good Landing Page?
A high-converting landing page performs well when it looks its best. In order to capture leads, some important traits that make for a well-designed, lead generating page include, but are not limited to:
A clear, well-positioned call-to-action (CTA) above the fold
Directional cues that draw the eye to the CTA (arrows)
Bullet-point copy to simplify your message. Your message should be concise and to the point
A headline/sub-headline that's attention-grabbing and specific
Highlight important points of the offer
Use video to boost conversion by 64-85%, according to Kissmetrics
Add social media proof
Offer a free trial
Show a reachable phone number to add a human touch
Present real testimonials to increase credibility and authenticity
Collect relevant information with an easy to fill-in form.
Include your brand logo on the page to keep it top of mind
A/B test components of your landing page for maximum results
Add trust seals such as PayPal to assure your prospect their payment is secure
[DOWNLOAD]
At the same time, you will want to avoid making any of these flubs that could kill your conversions, for example - cramming too much text on the page, confusing customers with multiple CTAs and requesting excessive information on the fill-in form.
Landing Pages That Work
To capture leads means obtaining personal information about a prospect (name, email address, profession, etc.) that will ultimately be used to nurture that prospect down the sales funnel. Don't underestimate the power of a simple and clean landing page, either. With our short attention spans, visitors skim over information until they get to the good stuff. Let's analyze why these lead capture pages have the right idea.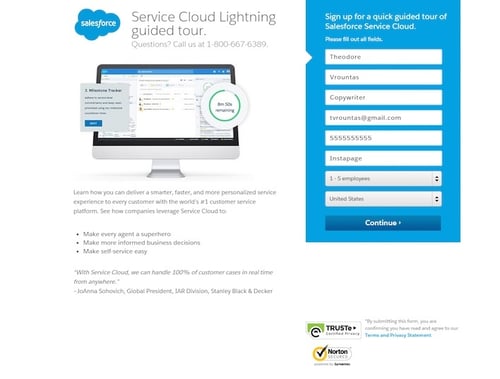 Succinct copy and a bullet-point list against a clean, no clutter background.
Contrasting form and CTA directs attention to where it's important.
Security badges show visitors that their information will be kept safe.
A phone number made available for people to interact on a personal level.
The brand logo is distinct.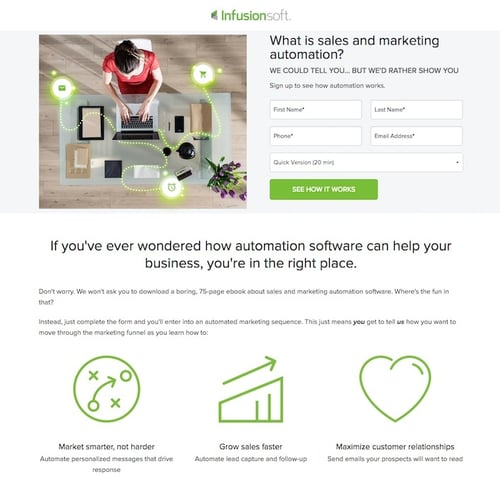 Short and sweet copy boils down to the benefits of using marketing automation with illustrative bullet points, each displaying a brief description.
Space is dedicated at the bottom of the landing page that explains exactly what will happen after conversion.
A list of their prominent clients forges a badge of trust.
The copy poses questions to the reader which further entices them into completing the form.
The CTA stands out nicely.
"

Video boosts lead conversion by 64-85%, according to Kissmetrics via @RspnsvInbndMktg.

"
More Tips
While it's important to continuously A/B test elements of your landing pages, be sure you remain consistent with your page design and layout. Making drastic alterations can deter the user and negatively affect your conversion rates.
For a more comprehensive guide on landing pages and website design best practices, learn everything you need to know in our free eBook!