For many people, social media is a regular part of their daily activities and a place to connect with each other. For marketers, it is a platform to learn about their audience and a communication vehicle to engage and help fuel sales. Here are 5 things every social media marketer needs to be doing in 2017.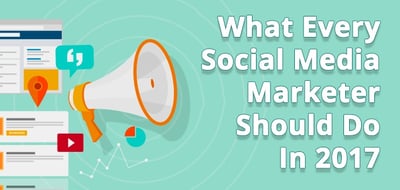 Use Snapchat For Business
Snapchat needs to be part of your social media strategy in 2017, if it isn't already. The rapid rise of Snapchat, from a picture sharing app most popular among teenagers to a valuable marketing tool, shows the importance of having not just mobile-optimized content, but a mobile-first strategy. It's a great way to show off your company's personality and help people feel that they can relate to you. Snapchat gives your company more transparency with your audience because there is no room for editing. With it, you are your own producer as you create video and image content in a very engaging and personalized way.
Because the content quickly expires, there is only a limited amount of time to share your message, which creates a sense of exclusivity and urgency - you need to see it now before it disappears. Brands have successfully used the app to share coupons and special offers, and give a first look at a new product.
Get Familiar With Live Video
Many of the same reasons why it's important to be using Snapchat for marketing also applies to the rise of live video. Facebook Live recently became available to everyone, and this is a huge opportunity to take advantage of it as a social media marketer. Live video speaks to people's desire to connect with the human side of brands and companies. Give people inside access to your company and show them the people behind it. In addition, look for ways to improve the overall customer experience with video. Here are just a few ways you can use Facebook Live, or other live video streaming tools:
Introduce or demo new products
Broadcast part of an event like a talk or concert
Host a Q & A
Go behind the scenes in your office or at an exclusive event
Do an interview
Don't worry about your video being perfect. That's not the point with live video. People are looking for authenticity, so being too scripted won't work. Be willing to try things out and experiment and adapt if the unexpected happens.
Paid Advertising On Social Media
It used to be pretty easy to have your content seen on social media organically. However, with changes to Facebook's newsfeed algorithm and the sheer amount of content that lives online, this is not always the case anymore. Paying to promote your social media content is becoming more of a necessity. Promoted pins on Pinterest recently became available, and according to Buffer's State of Social Media report, advertisers using Pinterest Ads Manager received 20% more clicks on average in the first month after beginning their campaign. The new business tools on Instagram also allow marketers to create ads in the app.
Don't forget that even with paid advertising or promoted posts, you still need content that is relevant to your audience.
Social Media Selling
People spend a lot of their time both on their phones and on social media, so it's natural that the ability to complete a purchase on these channels will become more common. This presents an opportunity for marketers to reach out to people and help them discover products where they already are, and complete the purchase. Most people already look to social media when doing research on a purchase or to view products. Ecommerce platforms integrated into social media channels are being developed, and your company should consider ways to take advantage of this.
Chatbots
Chatbots are defined by Chatbots Magazine as "a service powered by rules and sometimes artificial intelligence, that you interact with via a chat interface." They can help customers complete a purchase or answer their questions, without requiring a person to be on the other side of the chat.
"They are becoming a vital way to enhance the consumer experience for the purpose of better customer service and growing interaction," writes Jeff Bullas.
But as a social media marketer, how will chatbots impact social media? Well, there are several companies that have released chatbots for Facebook Messenger, such as 1-800-Flowers. So you can now order flowers for someone from within the Messenger app. In addition to purchases, chatbots can take care of your customer service needs. If your customers are tweeting you when they have a problem or leaving a comment on your Facebook post, you can now engage with them via a chatbot.
One of the most valuable aspects of chatbots is the potential for personalization. Your customers already expect a personalized experience, and you are likely already targeting specific audiences on social media. With chatbots, though it's still a little early on, there is the potential to better understand what types of messages people want and when.