As consumers, we've come to expect personalization. Think about the last time you shopped on Amazon or watched a movie on Netflix. Were suggestions offered to you based on what you've previously viewed? Were any of them appealing to you? Chances are the answer is yes.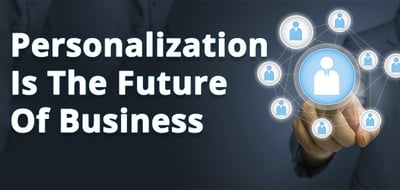 Personalization is not only a huge digital marketing trend, but the future of business as a customized user experience, tailored to the individual. This will build a relationship with your customers and drive loyalty.
There has to be more than just using someone's name in an email. It is about providing a user experience that correlates to that person's unique interests through relevant content or offers. A study by Accenture found that 56% of consumers are more likely to use a retailer or service if they are given a personalized experience.
People want to feel like they are getting a one on one experience and that something relates directly to them. Psychologically, people are more likely to engage with something they find relevant to them. And when you fail to customize the content that someone sees, they will go elsewhere.
Now, this may all sound great in theory, but how can you execute this type of strategy?
A More Targeted Message
There are a few fundamentals you should be implementing. How a visitor interacts with your web page is a good place to start. Product recommendations should be made based on viewed items, or a content offer should relate to a blog post or page that was viewed. Think about what you are learning about this person through each action they take and how you can continue to provide them with content that is interesting to them. How content reaches someone should also be taken into account. Are they coming from social media, a Google search, or an email? Consider what interests people most in each of these channels.
Take Advantage Of The Data
Looking at behavioral data is extremely important because it allows you to learn about your visitors and create that customized experience. 67% of a group of senior marketing executives from both the U.S. and Europe said that they used behavior-based data to develop content.
The metrics you measure should focus on engagement to see if people find your message or content to be relevant to them. Personalization will be based on both explicit and implicit data; the information provided through forms, and the conclusions and assumptions you make based on available information. Make sure that you are asking for the right information in your forms. People have to be willing to share their personal details with you, so be strategic about what you ask for and when. The more information you gather about visitors interests and needs, the better you can deliver a personalized experience.
Once you have enough information about your contacts and visitors, you can segment them into groups and create workflows to nurture them. Automating the process will save you time and money because you aren't just blindly sending an email to your entire contact list. Sending relevant and interesting content to the right group of people will help to move them along the buyer's journey towards becoming a customer.
Tip: Keep the data up-to-date. Make sure that you are using data that is current. Look at what people have been viewing or buying recently. Tastes, interests and needs change frequently.
Get Higher Conversions
HubSpot found that personalized calls-to-action result in a 42% higher conversion rate than calls-to-action that are the same for everyone. The kind of interaction a person has with your company will help you create with better email customization with suggested products or additional content.This will lead to a 152% higher open rate compared with other types of email marketing, according to Kissmetrics.
The numbers don't lie. The future of business is intertwined with understanding your customers and creating a unique experience.