If there's one thing savvy marketers know about millennials is to keep things real. Millennials - born between 1980 and 2000 - love to see authentic content-driven media that they can like, share, pin, tweet, snap, forward, or comment on. When it comes to this digital generation that currently makes up 80 million of the U.S. population and has an annual spending power projected to surpass $1 trillion by 2020, one thing is certain; they are empowered by content that speaks to them. So, do you ever wonder what online platforms millennials are using to do their research?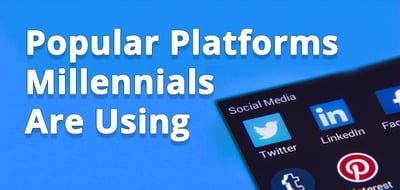 According to Forbes, 33% of millennials (also known as Generation Y) review blogs before they make a purchasing decision, compared to less than 3% that rely on TV, magazines and books. Meanwhile, social media has practically taken over life as we know it! As part of the top platforms millennials are using, networks like Facebook, Twitter, and Instagram are bustling online communities made up of social exchange and discovery that give consumers the opportunity to see products and content in action. So, if you're looking for a way to connect with this key demographic and move them further down the sales funnel, this is a powerful platform to build your brand and 'slay'. Think of social media channels as the modern day word-of-mouth tactic; HubSpot says 84% of millennials are influenced by the authentic opinions of real product users they can relate to on social networks - be it a friend or a stranger with similar interests.
[DOWNLOAD]
Okay, so, we know where the 'cool kids' mostly hang out. But, what websites are driving them to distraction? That's also to say, where are these digital natives scouting for information?
Even though they demand instant gratification and a fast response, marketing to this instrumental group doesn't have to be complicated. Learn the best ways to attract millennials with inbound marketing.