Why do people choose to buy from your company? Is it because your product or service is the best available? Possibly, but in today's world, there are usually multiple options for each purchase a person makes.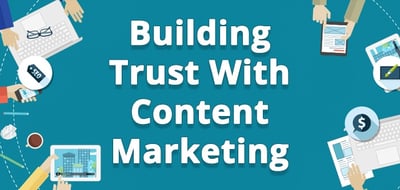 What will make them choose you? One way to convince people to purchase from your company is by distinguishing yourself with content marketing that builds a relationship with your audience. And through this relationship, your audience will come to trust you, which leads to brand loyalty in the future. "Emotional ties to content and brands are created by trust," writes Convince & Convert. People are skeptical. Companies need to prove themselves to potential customers before they will convert. 70% of people are more likely to buy a product or service when they see content about it that has been shared by a friend. Your company shouldn't underestimate the power of referral marketing and having a strategy that builds trust.
Customer-Centric Content
Building trust through your content marketing starts with remembering who you are writing for. Your content always needs to be centered around your target audience. Providing them with relevant, educational content that meets their needs is a crucial part of building trust.
Brand tone and messaging need to be consistent throughout all of your content, including your website and social media channels. Transparency is also part of the equation. Be sure to edit all content for grammar and spelling errors. Part of creating high-quality content is ensuring that it is error-free. Mistakes will make your company look sloppy and unprofessional, and nobody wants to give their money to a company like that.
Consistently delivering high-quality, relevant content to your audience will establish trust that makes people more willing to become customers.
Put People First
Your content marketing is driven by a team within your company. Why not let your audience know who they are? Make your company more relatable by putting a name and face to blog posts and other content. Let your audience see the real human behind what they are reading, and not just a faceless company.
It's also a good idea to give your employees some creative freedom and room to use their unique voice and talents within the content. Of course, maintaining uniform messaging and tone for your company is important, but that doesn't mean that you need to act like robots.
Be An Industry Authority
You want to be the kind of company people look to for answers. Becoming a resource where people can go to find answers to questions related to your industry will establish your company as an expert in your field. When your audience trusts you, then you will be their go-to source for information.
Providing expert information that people find useful will keep them coming back for more, which encourages more loyal customers. You helped them once and they know you can help them again.
Set Clear Expectations
People trust people who do what they say they will do. Be open and set clear expectations for people whenever they interact with your brand. For example, when someone new subscribes to your blog, let them know how often new content is published, as well as what emails they can expect regarding the blog or other related content. Outlining what to expect at the beginning of the relationship with a lead, and then delivering on those promises, will build up your company's credibility.
Every good relationship needs to be based on trust. Your content marketing strategy is not the place for a sales pitch. Provide useful information that consistently meets the needs of your audience and stick to what you say you will do, and they will not only trust your company, but are more likely to become loyal customers.