In order for your business to grow, you have to enhance your number of conversions. And most people want this to happen as fast as possible because it means more chance of a customer influx. But the biggest question remains, how is it possible to achieve this? Here are 10 quick fixes to start getting conversions fast: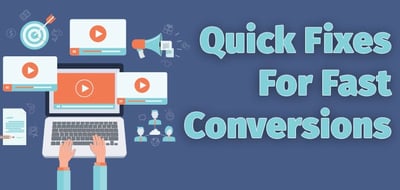 1. Landing Pages In Front Of Free Downloads- People will still want the content you offer, but now you're getting their contact information in return.
2. Put Contact Us Form On Each Page- This will always give your visitors a chance to submit their information instead of constantly searching for where to gain help and eventually giving up and leaving your page.
3. Put A Contact Us Form On Careers Page-This is prime placement for conversion because people are looking to get in contact with you.
4. Keep Wording Simple And Easy To Understand- Don't try to sound too technical with your descriptions throughout your website because people are going to get confused and leave before submitting their information.
5. Make The Buying Process Easy- The process to buy something should be a seamless and easy process. Don't make them search for the next steps because they will get frustrated and give up.
6. Monthly Newsletter Sign Up- Offer a monthly newsletter that will keep prospects up-to-date on the industry and your own product.
7. Blog Sign Up- Provide a place for people to sign up for blog notifications so that you get their contact information and a promise of return.
8. Keep The Number Of Fields On Form To Minimum- For any type of contact form/landing page, you want to ask for as little information as possible so that people don't get deterred, but you still get what you need.
9. Add A Guarantee- Let people know that you stand by your product and that there's no risk because if they don't like it they can easily return it.
10. Promote Free Downloads With Landing Pages On Social Media- Make sure the offers you're promoting on social media have landing pages so that when you reach out to that larger audience, there's a larger possibility of conversion.
If you follow these 10 quick fixes, you will start getting conversions fast and your businesses will grow! But keep in mind, it takes time to for a website to gain a lot of traffic. This is just a way to utilize the traffic you have so that you can take advantage of who you're attracting to your content.
If you're intersted in learning more about lead generation, download this free eBook today!