Whether you're a lawyer with your own independent practice or part of a much larger firm, without lead generation you lose out on a lot of new clients. Worse, you could be losing these clients to your competition because they have a stronger marketing strategy. In 2011, legal service websites were a $245 billion industry, so it's clear that the competition is strong. That's why it's important that you stay ahead of the competition. In order to do so, check out these 10 lead generation tips: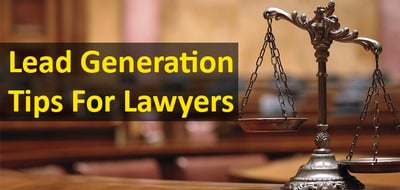 1. Website Content – Your website should contain news articles and any other praise-worthy yet informative information about your practice so that visitors can read about you while being groomed to believe in your abilities.
2. Blog – To drive traffic to your site, you're going to need to create content that shows up in search engines. Blogs are a great way to do that because they answer the questions that your ideal clients are asking search engines.
3. Website Offers – Your website should contain white papers that go into detail about things that your blog only touches upon. This will drive even more leads to your site.
4.Landing Pages – After you create an offer for your website, like a white paper, you should put a landing page in front of it so that people have to enter their contact information. That way you can nurture them until they become customers.
5. Social Media – If you can find the right platform to reach your clients on, you will be able to up your lead generation simply by posting on a regular basis.
6. Name Recognition – People are more likely to turn to you when they need a lawyer if they have already heard of you. There are strict laws against the amount of advertising a practice can do, but if you make your logo cohesive across all platforms, including social media, website, promotional ads, you will gain recognition.
7. Hire A Start - Up Lead Generation Company – These are popping up like crazy in the law world because they work specifically with lead generating and they take the work off of the firms shoulders.
8. Catchy CTA – It's important to funnel your website traffic in the right direction and creating a CTA that has an attractive color scheme and picture will do just that. Make sure it's not confusing so that they prospects know what they're getting when they press on it.
9. Knowledge Management Tools – If you're able to track your website traffic to see what is clicked on and what is avoided when people roam around your website, you can make changes that will enhance the way possible prospects use your website. With a more appealing format and information, people will be more likely to become leads.
10. Email marketing – You should email prospects with tailored content and messages so that your email doesn't get caught in their spam filter and also it makes them feel more personal.
Lawyers are faced with a difficult industry to market in because of the amount of competition out there. On top of it all, there is a lot of money that some firms can throw around while others can't so lead generation for lawyers is important to know. If you follow this list you will gain a step up in the competition no matter what your budget is!
If you're interested in more information on marketing, this free eBook will help.