You don't have to break the bank for best marketing results. Whether you use pricey software on a daily basis, or stick with the essentials, there are plenty of free marketing platforms to help you reach your goals.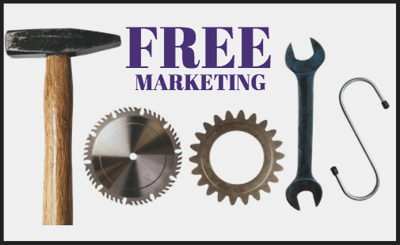 WordPress is an easy-to-use content management system for managing your website and blog, making it the most popular platform of its kind. It features responsive templates that look good on any device. A variety of plugins are available that allow customization and expansion of your website as needed. The software is open source, so it can be modified and changed without prior permission.
You definitely want to include a design tool in the arsenal of free marketing platforms you use. Visual marketing is an important part of a well-rounded marketing plan. Canva makes it easy to create visuals and improve your visual marketing with pre-sized images for social media channels; it includes a huge selection of fonts to choose from, and a built-in photo editor. You can also collaborate with your team on projects by sharing an editable version of your work. It's also easy to keep all the images you create branded to your company by adding your logo.
If you're looking for an image editor that allows you to manipulate, retouch, and create high quality images, then Gimp is for you. The plugins created by the community enhance the tool, which works on many operating systems. It's a great option for more casual or novice editors who don't need something as powerful, or expensive, as Photoshop for regular use.
Find out what people are saying about your brand with Hootsuite's social media monitoring, and respond quickly when someone contacts you on one of your profiles. This social media-scheduling tool allows you to connect three profiles for free, and provides analytics to show how your social campaigns are working.
Staying on top of your social media-publishing schedule can be a challenge. Schedule up to 10 posts in advance with Buffer, so you don't have to scramble to put something out. Buffer will also analyze your audience engagement with your posts to give you the best times to publish, which you can choose to use, or test your own times.
Perhaps one of the most popular free marketing platforms to take advantage of, Google Analytics allows marketers to understand how their campaigns are working and to make strategic decisions based on data. You can also segment by geographic area and understand where your web traffic is coming from so you'll know which channels to focus on.
[DOWNLOAD]
Hotjar allows you to see how people are using your website so you can use it to optimize your conversion rate. The platform features A/B testing, funnel analysis and both web and mobile analytics. You can also create heat maps to understand what people engage with most or least on a web page, and use that insight strategically to improve design and content.
Simply Measured is a social analysis and monitoring platform that provides reports specific to each of your social media channels. You can check out reports that compare your company to the competition to see how your efforts stack up. If you have multiple profiles on the same social network for your company, you can also compare them side-by-side to understand how they perform in relation to each other.
Known for his simple, and sometimes sparse, writing style, this proofreading tool pays tribute to Hemingway and makes your writing "bold and clear." Just copy and paste your text into the editor to receive color-coded suggestions on where the writing is dense, a sentence is too long, where to use a shorter word, and where all of the adverbs are. The tool also gives a grade level readability score, which can be a helpful tool to ensure that your content is clear and comprehensible.
If the name alone doesn't intrigue you, then the tool will. Once downloaded, the spider crawls through and up to 500 URLs to find broken links, duplicate content, blocked URLs, and redirects; it also checks response time, and analyzes page titles and meta descriptions. It will save you the headache of trying to evaluate onsite SEO for each of your web pages individually.
HubSpot is offering a new free marketing platform that allows users to track leads and improve conversions that works with any website. You'll be able to see a more complete picture of who leads are because the platform pulls information from around the web once they've submitted a form. Everything is organized in a timeline to help you keep track. The built-in analytics will help you understand which traffic sources and offers are contributing most to conversions.
Wistia is a video hosting platform with SEO optimized embed codes that will help your videos get found by your audience. The video player scales to fit the screen it's on, and you can also include social sharing so your audience can easily pass the video along. Wistia has an email collection tool that can be added to any video to turn viewers into leads.
By now, you've hopefully incorporated video into your marketing strategy. In addition to being a platform for hosting videos, YouTube is also the second largest search engine in the world, giving you the potential to reach a huge audience. YouTube Analytics allows you to sort data by demographics to better understand your audience and track engagement.
Want to chat about which platforms are the best for your specific business? Contact us today and we will walk you through everything!