A lot of articles out there will tell you that marketing software as a service to other businesses is hard. And that's understandable. When you compare the marketing strategy of an intangible product (like a cloud-based app) to a physical product, they each require a different approach. Fortunately, you don't need to reinvent the wheel.
There are two effective marketing strategies - organic search and paid search - which you can use to increase and accelerate traffic to your website.
Just in case you aren't familiar with Search Engine Optimization (SEO) and Pay Per Click (PPC), here's an overview.
Photo credit: impactbnd.com
Read on to learn how you can get the most of these two channels by using them together.
Why You Should Embrace Both SEO and PPC
If you haven't yet tried reaching your target audience by combining SEO and PPC as a strategy, now is a good time to start.
While SEO is crowned as the most cost-effective way to market your SaaS website, you can also achieve good results with PPC on a shoestring budget. For example, you can launch successful PPC campaigns using Google Ads by paying for what you can afford. Remember, you pay for every click-through in a PPC campaign, whereas organic marketing is free.
Interested in learning how to get the best results from Google Ads on a small budget? Check out our previous blog post.
So, why should you use both SEO and PPC? Because when used together, they can yield powerful results for your SaaS business as opposed to sticking to just one.
Let's find out how below.
How SEO and PPC Can Help Grow Your SaaS Business
SEO or PPC both have a common goal to boost your visibility and bottom line. So, instead of trying to decide which is better for your business, why not get the best of both worlds? Here's how.
Maximize a new product launch
While SEO is effective at building trust and generating more qualified leads, it can take several months before you reap the rewards.
Here's a great opportunity to add PPC efforts to the mix!
When it comes to promoting a newly-launched product, you need to make enough noise about it online using the right marketing strategies. Creating high quality content for SEO purposes is one way, but what can PPC do for you?
PPC can help drive sales faster. After a PPC campaign is launched, you can expect to see results almost immediately, with optimal results within weeks or a few months.
To achieve the best results in a shorter time, you'll need to test and optimize your ad campaigns. This is where a knowledgeable team of marketers comes into play to help your efforts reach their full potential.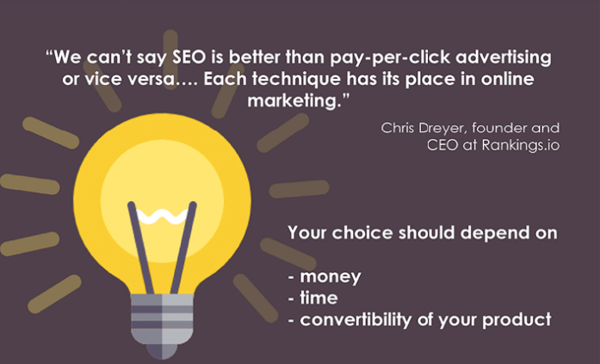 Photo credit: kraftblick.com
Cast a wider net
Imagine how many conversions, sales and visibility you can generate if you used SEO and PPC together as a mega tool. Especially if you're a SaaS startup or an SMB, it'll help level the playing field, so you can compete with larger companies.
If your goal is to attract potential customers for both short-term success and long-term growth, SEO is a great tool that organically increases traffic to your website, while your PPC ads can show up on other sites.
This means that while potential customers will find you organically through search engines like Google, you'll also become visible to a relevant audience in other places by controlling where your PPC ads show up.
When used hand in hand, these two strategies will double your chance of conversions and generate greater traffic.
Get on the front page of Google
When you keep SEO and PPC separated, you could be losing out on opportunities to increase your revenue.
Here's what we mean.
Both PPC and SEO rely on targeting popular keywords in both your ad copy and your website content. If you can manage to rank high on Google organically, then you can expect to have a continuous flow of traffic to your site for free, and ultimately increase sales.
Indeed, getting ranked on the first page isn't easy to do. That's where PPC works great in combination with SEO to get your business out in front of thousands of potential customers.
PPC ads appear on top and on the bottom of the organic results of a search engine like Google. Getting ads on the first page requires paying a higher cost per click.
When using SEO tactics, you can get first page positions. However, this depends on how optimized your website is for search engines.
Have questions about this article and search marketing strategies? Drop us a line in our chat!