Going with your gut feeling is sometimes the best move. However, using your intuition to justify your marketing decisions won't usually cut it, especially as digital marketing becomes more data-driven. An A/B test that compares two different versions of the same piece of content will help you understand what works best for your company and give you the data and evidence to back up your decisions. The results may sometimes also surprise you.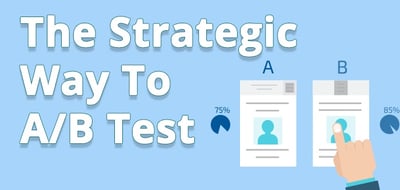 You can test your messaging, images, landing pages, headlines, emails and more in order to increase conversion rates. Even though you can test pretty much any element of a webpage or email, you don't need to. Instead, you want to understand which elements are most likely to have a significant impact on the results.
[DOWNLOAD]
What you test will be based on what your goals are. Are you looking to get people to download an offer, subscribe to your blog, or start a free trial? Think about what is keeping people from completing the action required and design a test around that.
A/B testing also saves you time and money in the long run because you will understand what has worked well in the past and use that as the building blocks for future campaigns that will allow you to better reach and target your audience.
Best Practices To Remember:
Tests need to be run at the same time (don't test version A one week and version B the next).
Run your test long enough to gather significant results, which can take a few weeks or longer.
Only test one variable at a time.
The Scientific Method Of An A/B Test
Design your test by following a workflow that includes these steps:
Determine what you will test and why.
Set a goal and how you will measure success (what do you hope to discover?).
Create alternatives to your control page.
Run the test.
Analyze the results.
The option with the best results is used as the control in a new test.
Repeat the process.
Test Your Email Subject Line
With your email marketing, you probably want to increase your open and click-through rates. Subject lines play an important role in getting someone to open an email and engage with the message inside. You can find out what will be most effective for your subject line by running a test. You might test the subject line's length or language. With this test you could try a longer versus shorter version of the subject, or see what happens if you include a promotion right in the heading instead of inside the message.
Pardot shared an example of a company that successfully tested their email subject line. European real estate company Spiicerhaart was looking to see which subject line would lead to a higher open rate.
Version A: Mill View | Join us for our pre-launch weekend to find out more about these exciting new homes
Version B: Mill View | Pre-launch weekend | Quality homes affordably priced
They found that Version B's skimmable and sectioned format led to an open rate improved by 74%.
Test Your CTA On A Blog Post
Getting people to read and engage with your content is an important way to turn visitors into leads and customers. Chances are you include a CTA with your blog posts. Maybe you're wondering what helps compel someone to click on it. You could run an A/B test on the CTA to test the language, the color of the button or the placement on the page.
Veeam Software ran a test a few years ago to determine which variations of requesting pricing information worked best for their audience. They began with a clickable link that read, "Request a quote," and tested it in comparison to "Request pricing." The results? A 161% increase in the click-through rate for "Request pricing."
So start testing, and then test again. The results may surprise you.