Regardless of your industry, press releases are an effective component to your marketing strategy when done thoughtfully. In addition to being inexpensive to create and distribute, they can be used as a means to get media attention, engage with new audiences and earn trust.
Here are some of the main reasons to write a press release:
New product or service

Company achievement (e.g., award, milestone)

New brand image

Revamped company structure or business model

New strategic partnership or alliance

Special event or public appearance in person, television or radio

Sponsorship
If you're not sure how to get started or whether your news is worth publishing, don't worry. In this post, you'll learn some of the important elements your press release needs to be effective.
[DOWNLOAD]
4 Press Release Tips
1. Write a Catchy Headline
As with any good news story, the headline needs to grab your reader's attention. It should target your audiences by focusing on a single, newsworthy topic that will pique their curiosity or be shared on social media.
Because your headline will set the tone for what to expect, it's important to put extra time and effort into it. Keep it straightforward and consider using action words that strengthen your message and make it stand out. Make sure to be clear and concise with your information to reach all your targets.
Also, keeping your headline short will make it easier to promote on social networks like Twitter and LinkedIn because people tend to scan content that show in news feeds, instead of actually reading it.
Here are some examples of intriguing headlines we've taken from around the web:
ModCloth Breaks Up With Black Friday
Hyland Named to 2018 Fortune 100 Best Companies to Work For List
Buckle Up, Prime Members: Amazon Launches In-Car Delivery
Dropbox and Salesforce Form Strategic Partnership
NetApp Reinvents the Customer Experience for the Hybrid Multicloud
2. Summarize Your News in the Introduction
What's your press release about? Try to summarize the who, what, where, why and when in the introduction paragraph.
It's important to give all the key information in the beginning to provide readers, especially media contacts, with an immediate overview of your press release. The intro paragraph should be short, about 2-3 sentences long, while answering the burning question: Why does it matter?
Here's an example:

3. Work in an expert quote
Quoting an authority within the company, such as an executive or CEO, will not only add credibility to your press release, but also a human touch.
A good quote should expand on your story and provide some sort of insight. To elicit a compelling quote from your spokesperson, ask them open-ended questions, like:
What are the impacts or benefits of this news?

Who does this concern and why?

How does it solve a problem or address a need?
4. Add links
Use links that bring your audience to additional content that pertains to your story. For example, if your release is about a new product launch, add a link to the product-specific page. This approach will drive meaningful traffic to your website and enhance the user experience.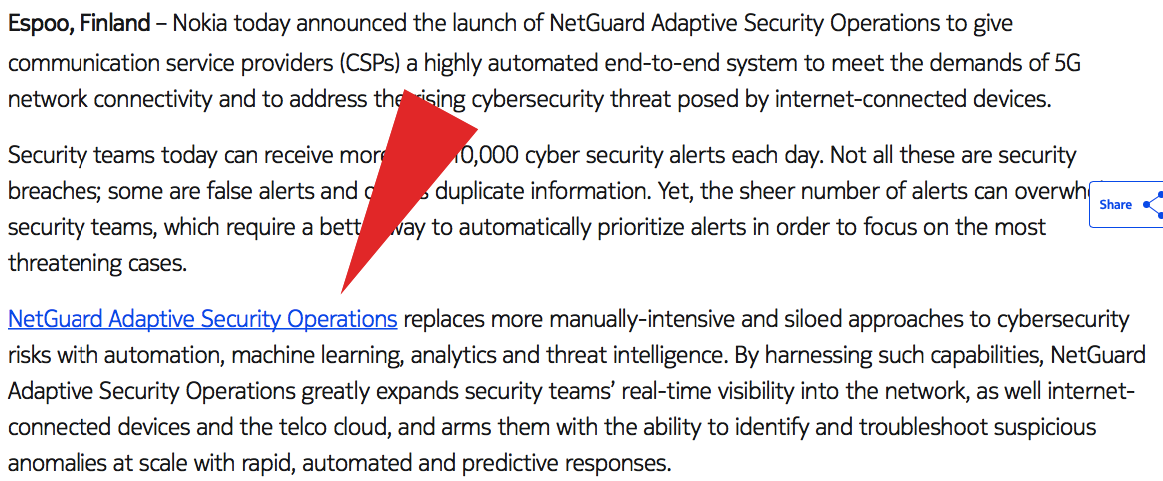 Need more marketing tips to get your creative juices flowing? Check out our guide, "10 Inbound Marketing Quick Wins" below.