What's one of the best ways you can increase the impact you make in your online presence without requiring more of your team's time?
Answer, automate your marketing - allowing you to do more without putting in more effort.
One example of marketing automation is live chat, a software that can integrate with HubSpot and allows you to immediately connect with your prospects and customers through a chat bubble directly on your website. Not only does this allow for convenience for anyone who visits your website to get directly connected to a live person quickly, but it also automates your customer support, technical support and captures the contact information of your leads. Win, win!
Learn how to customize your live chat on HubSpot with these easy steps.
Set Up Your Live Chat Profile and Notifications on HubSpot
Before you can begin to allow leads to contact you through live chat, it's important to ensure your profile and notifications are properly set up first. Rather than keeping the generic profile photo that live chat assigns you, why not upload the headshot of the team member who will be speaking with the website visitors? This helps to build credibility by allowing the individual to know they'll be speaking with a "real person" and not just an automated service (even if you are automating the entire process!).

Live chat also allows you to set your availability, communicating to users when a representative from your team will be available and therefore when they can expect a response from you. That means they won't assume that they'll get an immediate response if they send a chat at 11 pm on a Saturday night, or if they send a message during business hours, they know they'll get a response within business hours.
Additionally, live chat has various notification settings to alert the right team member when a chat has come through, helping to increase the response time and prevent any communications from slipping through the cracks. According to InsideSales.com, 35–50% of sales go to the company who answers first, which means if your potential customers are reaching out to your competitors, you want to be sure you answer their messages as soon as you can.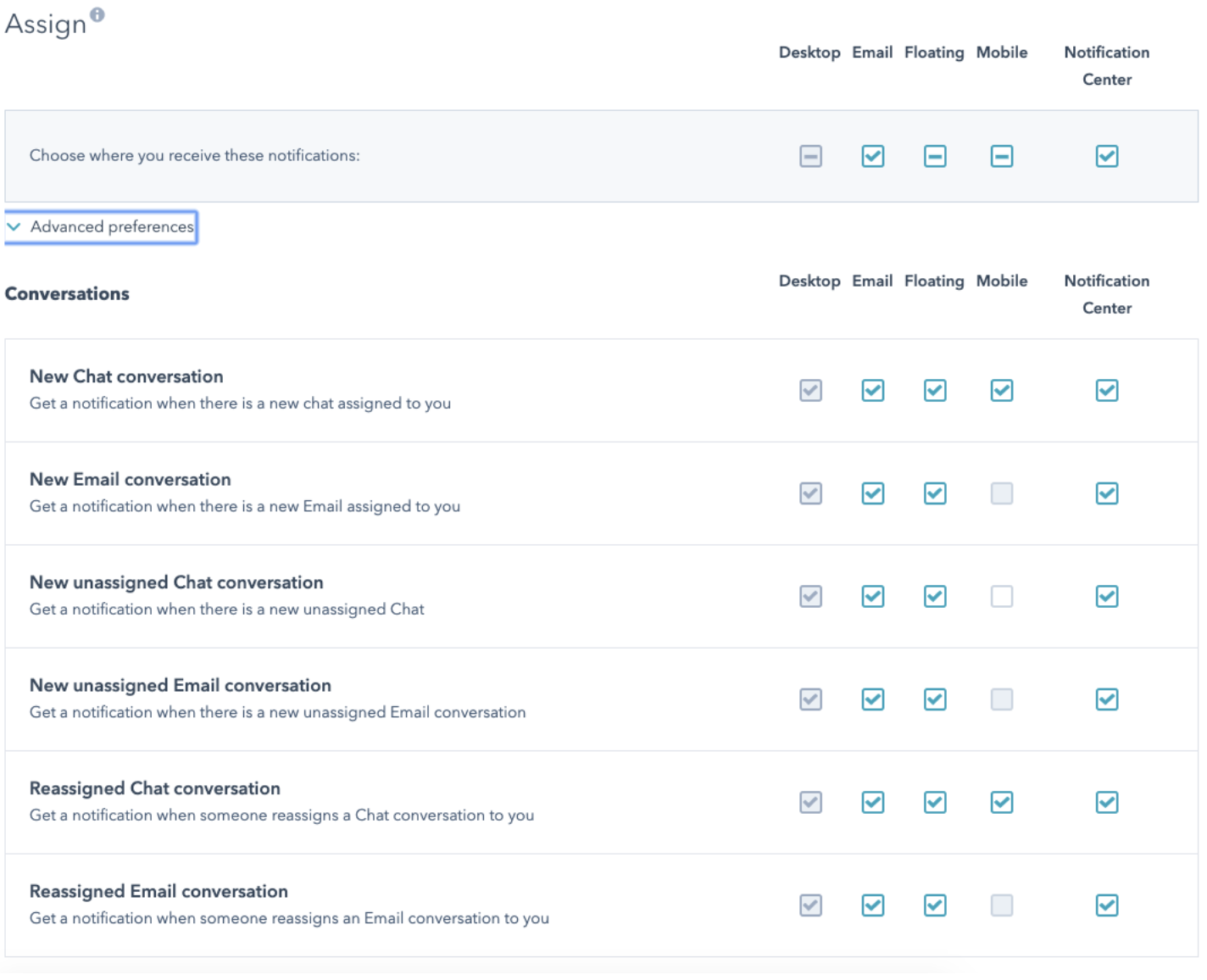 You can choose to get notified via:
Desktop: sent to your browser
Email: sent to your email address
Floating: sent to your computer screen when you're active on HubSpot
Mobile: sent to your mobile device
Notification Center: sent to your HubSpot notifications
You can also turn on the same notification preferences for replies, when a user replies to a message you sent: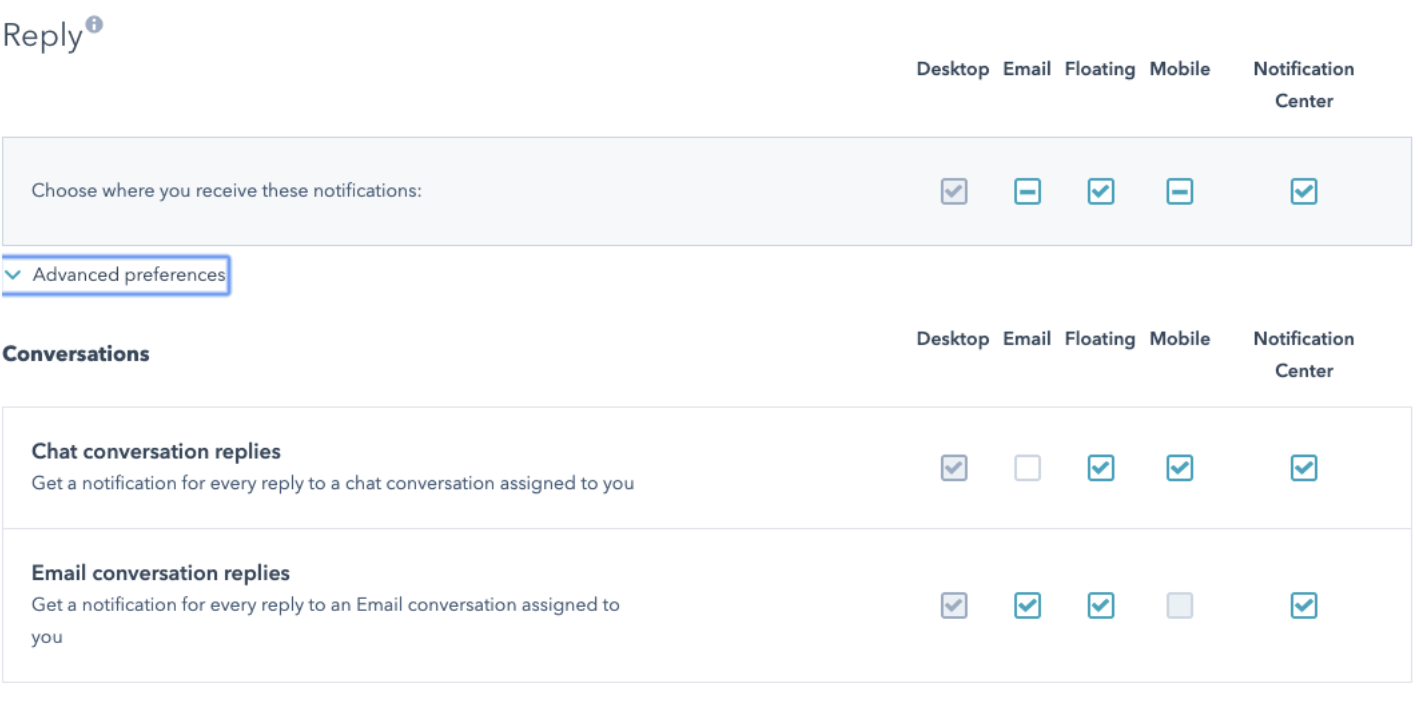 These notification preferences make it possible for you to respond to your leads any time, anywhere, helping to push them further through the sales cycle.
Determine Your Marketing Automation Options
Once you know your profile and notifications are set up correctly, you can select the options that users will have when starting a chat with you. When they pick one of the three or four options as to why they're reaching out, it will trigger a chatflow that will automatically start a conversation with the user based on the issue or topic they selected.
Here are the various options you can consider when building your live chat widget.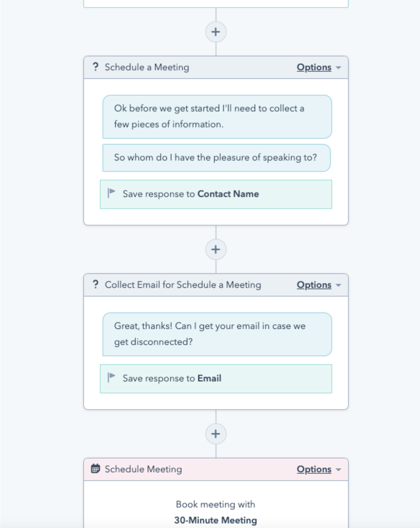 Schedule A Meeting
Do you want to allow website visitors to schedule a meeting with you? You can use HubSpot to create a meeting link that includes only your availability or your team's availability if it would be a group meeting. You can then use live chat to help the lead book a call through that link.
One of the benefits of using live chat to help users book meetings, however, is that live chat can do the lead qualification for you, meaning not just anyone and everyone has the option to speak with you. By using a bot, you can create a chatflow within your HubSpot account that will give specific responses to the person based on the answers they share with you. Questions you may want to ask to help qualify a lead include:
The person's name
The company they work for and their title
How they found out about your company
What services they're looking for
What their budget is
If this person checks all of the right boxes when answering these questions, live chat will then be able to direct them to your meeting link so they can schedule a call. If live chat determines that they're not a good fit, live chat can provide them with an alternative option, such as directing them to a referral partner or to other resources.
Using live chat to schedule your meeting not only ensures you're only booking calls with the right people but also prevents you from needing to spend time doing this administrative task yourself.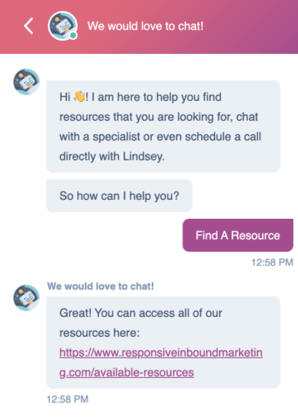 Search A Knowledge Base
Do you have users who frequently ask you the same questions over and over? Instead of dedicating time, money, and resources to have a team member answer these questions that come through, why not have a bot help you?
Live chat gives you the option to allow users to search a knowledge base, which could be an FAQ section, blog, or resource page. You could handle this option one of two ways:
Send people a link to your resources page and immediately end the chat
Allow people to select the topic of resources they're looking for and then send them more specific recommendations from there, while giving them the option to live chat with someone if their question still isn't answered
This feature relieves all of the time you would typically spend answering questions for people that already have the answers listed somewhere on your website.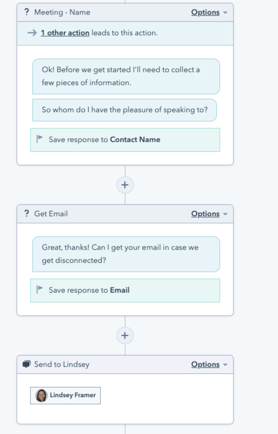 Chat With A Live Person
When information isn't readily available on your website, sometimes chatting directly with a person who can help is the best bet. As mentioned above, you can select the times that someone from your team will be available so that users know when they can expect to receive a response.
You can set up your live chat to ask the following:
The user's name
What their question is
Then their answer will loop in the right person to respond. From there, you can take the conversation offline if it's an issue that needs to be escalated, or you can solve the issue directly through chat.
It's very rare to see a website these days that doesn't have some sort of communication device to be able to chat with someone right when you need to. So my question to you is, why wouldn't you set up a widget that is automated and only feeds you serious leads? Don't leave money on the table, set one up soon.