When you create an account on HubSpot, you're not limited to only the features that HubSpot has–you're able to integrate over 1100 apps and web services that you use daily. That allows you to manage data in one spot and prevents you from needing to transfer information from one software to another!

With so many options to choose from, it can be hard to know which ones you should integrate based on your company needs. Although you might not know these integrations exist or have heard of them, I'm sharing 11 of the best HubSpot integrations that I've used to give you some ideas on what you can streamline and automate next for your project management, marketing, customer relationship management (CRM), and communications needs.
My Favorite Project Management HubSpot Integration
Asana
Does your team use Asana for task management and HubSpot for workflows? The Asana and HubSpot integration makes it easy for you to create an Asana task from a HubSpot workflow, such as closing a deal and getting a new client or customer onboarded. This is great for when you need to hand a task off to another team, such as once a deal closes, you can create a task for the finance team. Quite frankly this is my favorite part, it makes it seamless so once you set the specific tasks, it's all set!

COST: Asana has a free plan, or they offer their Premium version at $13.49/user per month.
My Favorite Marketing HubSpot Integration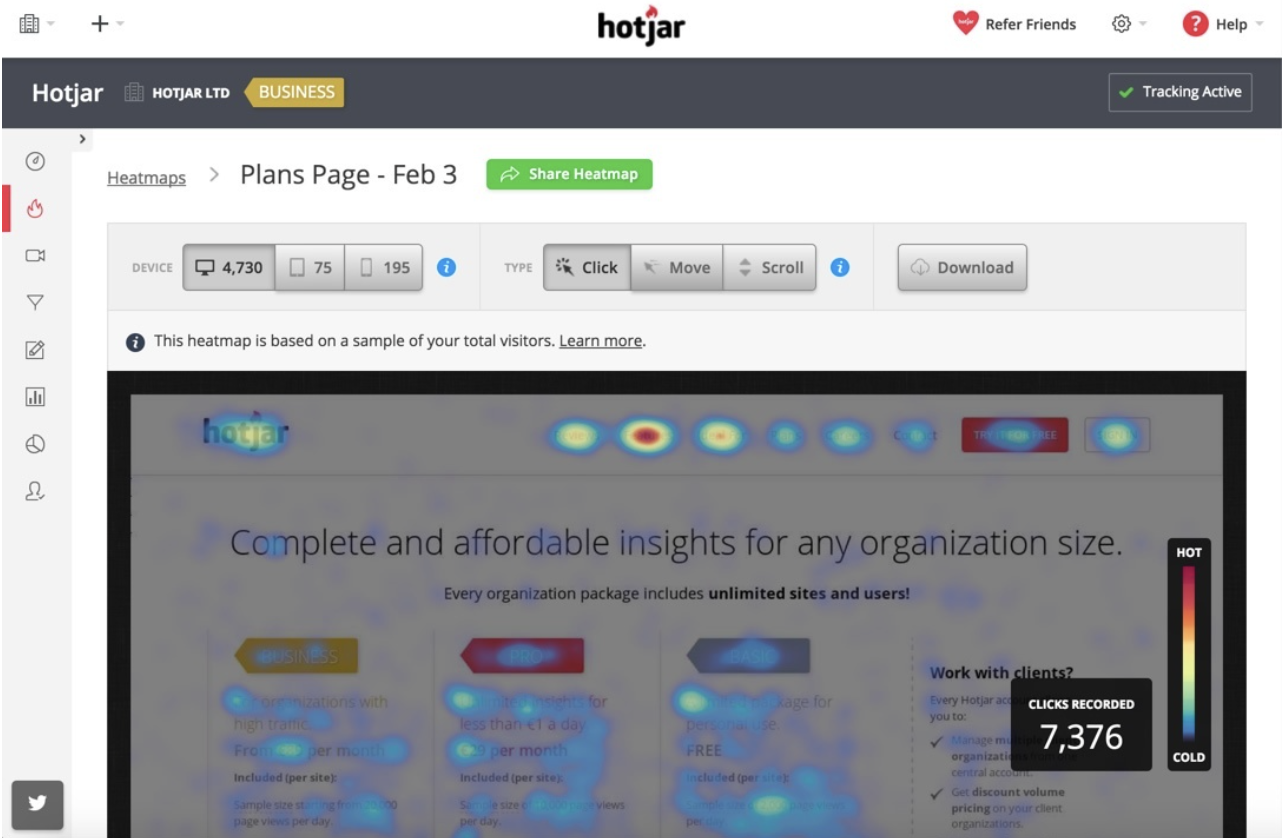 Hotjar
User experience is one of the most important parts of your website (if not most) to ensure that users are engaged, finding your website easy to navigate, and enjoying the content that you share. If you want to know just how users interact with your website, the Hotjar and HubSpot integration shows that.

Whether you want to see how users click, move and scroll on your site; record the actions that users are taking; or get feedback from users on how your site functions for them. Hotjar will help you improve and optimize your site, allowing your users to stay engaged longer and perhaps even increase your conversions.

You can actually see the roadmap someone takes when they come on your site, if they automatically scroll over to the right hand side of their screen looking for a CTA, how far they scroll down before they exit. All pretty cool and important things you need to take into consideration when addressing your website.

COST: Hotjar offers a basic, limited plan that's free, but they also have plans at $31/month and $79/month.
My Favorite ECommerce HubSpot Integration
Shopify
If you're looking for more ways to increase your sales through Shopify and view reports of your ecommerce performance, the Shopify and HubSpot integration helps you achieve that. Some of these features include:
Syncing customers into HubSpot for more customized communications
Launching growth strategies, such as abandoned cart emails, CTAs, and product-specific re-engagement ads
Tracking your sales, abandoned cart recovery, and more
COST: Shopify's pricing varies between $29 - $299 per month.
My Favorite Sales HubSpot Integrations
ZoomInfo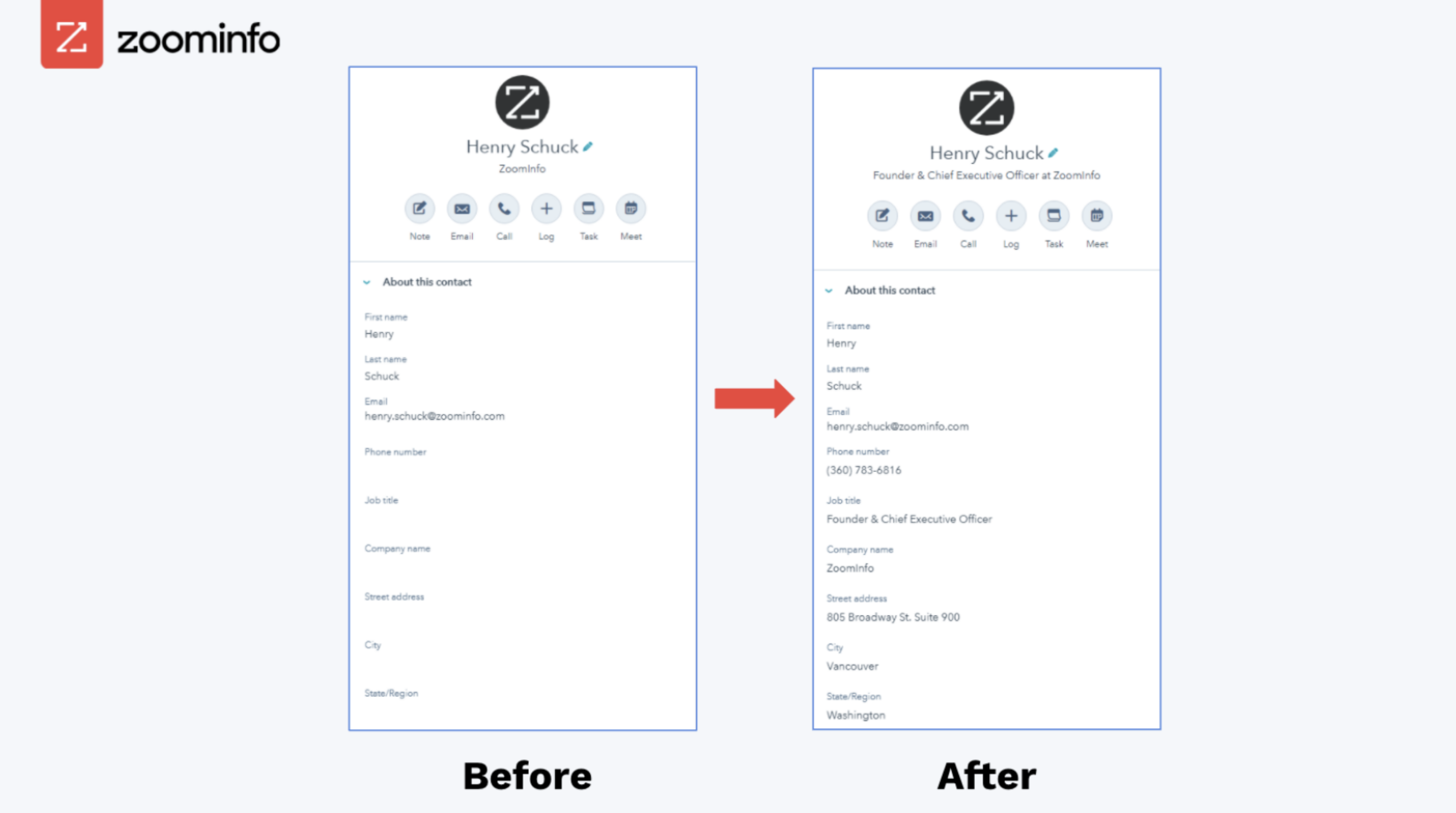 Have you been using ZoomInfo to manage your contacts? Integrate ZoomInfo with HubSpot to enrich contacts and companies information that you have. By receiving more details such as job titles, amount of revenue, company, and more, you're able to use that data and information in your sales process to create a more customized approach and strategy.

Want to personalize your email to that hot prospect with their location or maybe their title? You got it! With ZoomInfo, it will bring in all of that important information and then with your personalized sales email in HubSpot, it will automatically fill all of that into the email. According to Instapage, personalized email marketing is said to generate a median ROI of 122%!
COST: Contact ZoomInfo for their pricing.
Salesforce
Do you find that there's a disconnect between your marketing and sales teams? It's crucial for both to seamlessly work together to nurture and convert prospects, and that can happen through the Salesforce and HubSpot integration. You can send lead intelligence from HubSpot to Salesforce that will help the sales team close more deals, such as email opens, form submissions, website activity, and more.

You can also send contacts from Salesforce to HubSpot, which allows you to send personalized emails and reach out to a lead on behalf of a sales rep.

But one of the most beneficial pieces of the integration is the revenue data that you can share so you can close the data and revenue loop.
COST: Salesforce's pricing varies between $25/user per month to $125/user per month, depending on the amount of features you need for it.
Proposify
If you're looking for a proposal integration that can help you create proposals, use the Proposify and HubSpot integration. This allows you to edit, send, and sign proposals, quotes, and contracts directly within HubSpot, preventing you from needing to switch between programs. Everything you update in HubSpot automatically updates in Proposify as well. You can also keep track of these proposals within HubSpot by viewing a timeline of when the proposal was sent, when changes were made, and when the deal was closed, preventing leads from slipping through the cracks.

But want to know my favorite part of this proposal? You can set up a workflow that will update on the deal level and it can trigger a welcome email once a client signs!
COST: Proposify has a free plan, but their $49/user per month plan or $590/month plan is recommended.
LinkedIn
LinkedIn Sales Navigator is another integration with HubSpot, allowing you to view LinkedIn data in HubSpot to send InMail. This involves showing important information about both contacts and companies:
Contacts: You can see their LinkedIn job title, company, time in their current role, location, and industry. HubSpot uses the contact's first name, last name, email, company, and job title to search for their profile.
Companies: You can see their industry, size, and location. HubSpot uses the company's name and domain to search for their company profile.
Through this integration, you're able to see suggestions of who you should reach out to based on what you're looking for, which is helpful for nurturing any leads and pushing your company to stay top of mind for your customers!
COST: Sales Navigator starts at $79.99 per month.
My Favorite Communications/Webinar HubSpot Integrations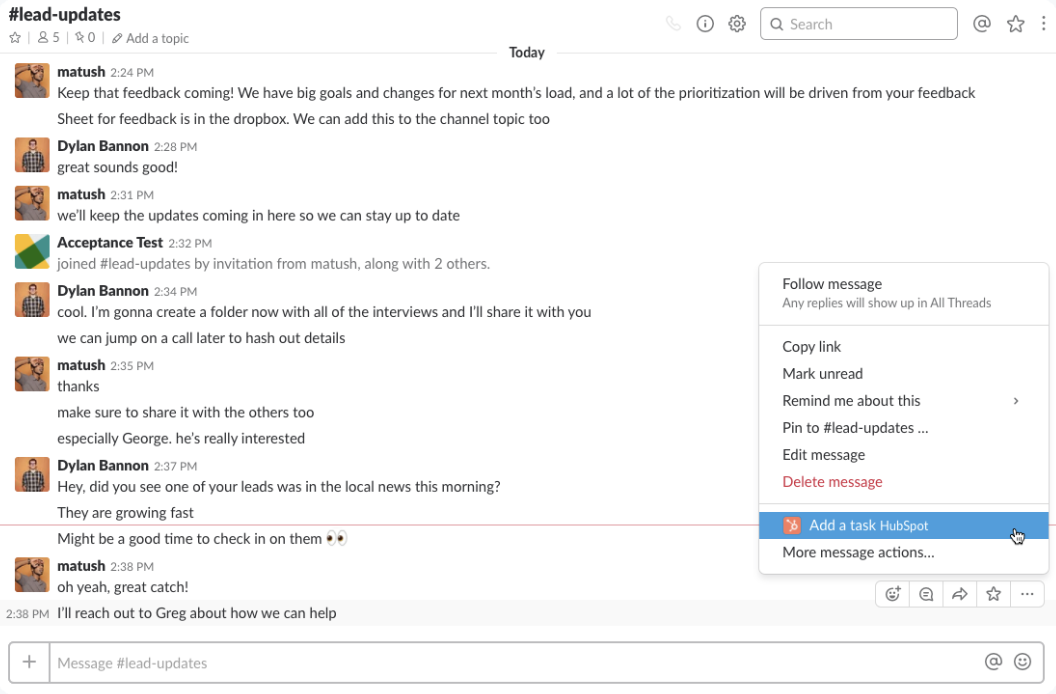 Slack
Do you ever get a request from a colleague on Slack and then have to manually go into HubSpot to add that as a task for yourself? I'm sure it happens a lot, and it can be tedious to constantly be switching from one software to another to add information needed. The HubSpot and Slack integration prevents you from needing to take that extra step!

Now, when you need to create a task for yourself from a conversation you had, select the "Add a task to HubSpot" option when hovering your mouse over the message in Slack, and it will allow you to associate that task with a contact, company, or deal in HubSpot. Studies found that 72% of salespeople spend up to an hour a day on data entry, so imagine how much time this integration will save you and your team!

You can also opt to receive HubSpot notifications directly in Slack as well, which is convenient if you're using that platform frequently and want to be notified of updates in HubSpot on the fly. Did you know that you get an instant notification in Slack if someone tries to get in touch with you via your website? Talk about convenience!
COST: Slack does have a free plan, but they also have a Pro plan of $8/user per month and a Business+ plan of $15/user per month.
Zoom
Instead of needing to manually create a Zoom meeting and then have to email the meeting link and details to a lead every time they book a meeting, you can integrate Zoom with HubSpot to automatically include those details in HubSpot meetings, preventing you from taking an extra step.

Additionally, you can use this integration for webinars hosted through Zoom to send reminder emails, track webinar attendance, and record and transcribe webinars.

COST: Zoom has a free plan as well as paid plans that range between $150 - $240 per year, per license.
Tactiq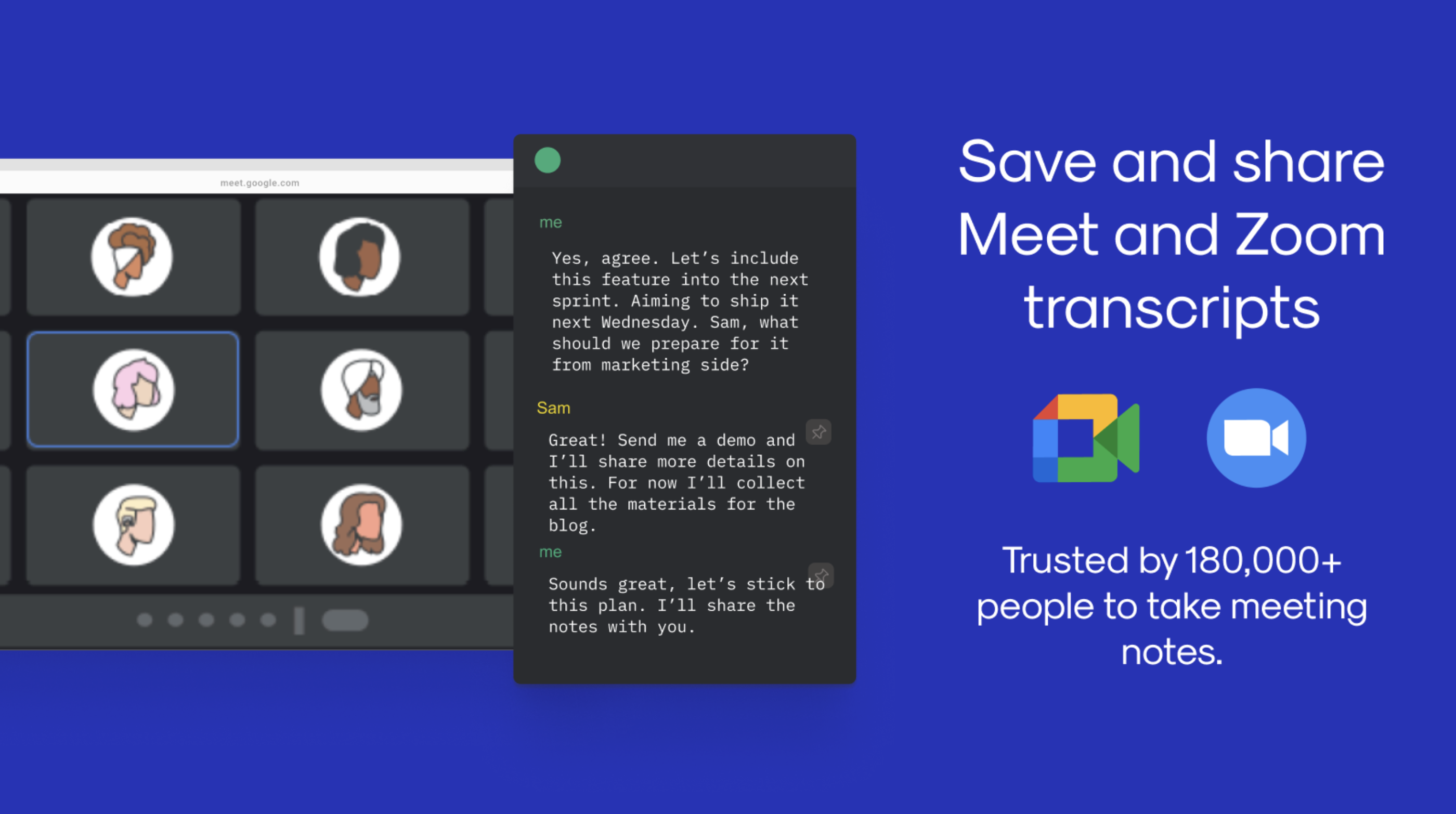 So for me, the biggest plus about this integration is that I can actually engage and pay attention to all of the details of a meeting because I don't have to stress about taking notes. With the Tactiq and HubSpot integration, you have the entire conversation transcribed for you, allowing you to go back and review any important notes. This is also helpful for sharing this information with team members who may not have been present on the call.

COST: Tactiq has a free plan as well as a $9/month plan and $20/month plan.
GoToWebinar
Does your team frequently host webinars and need a way to keep track of registrants? The GoToWebinar and HubSpot integration takes care of that for you!

This integration gives you the option to create registration forms and landing pages in HubSpot, allowing you to incorporate your branding more, while sending registrants to GoToWebinar once they've submitted the form. Leading up to the webinar, you can use HubSpot's email tool to send reminders to increase the live attendance. After the webinar, you're able to leverage reports to see which webinar attendees may have converted.
COST: GoToWebinar's pricing ranges from $59-$249 per month, varying between allowing 250 participants - 1,000 participants.
I get it, there are SO many integrations out there that can help, but it's overwhelming. So what is step one with figuring out what are the best integrations for you? Make a list of all of the softwares, apps, and tools you use and see if there's an integration for it! You'd be surprised to see that almost all of them will likely have an integration, helping to streamline and automate your processes for you.