HubSpot is continuously making updates and adding new features to make their platform even better for their over 34,000 customers around the world to help them meet their inbound marketing goals. Check out these recent updates to the platform from this summer.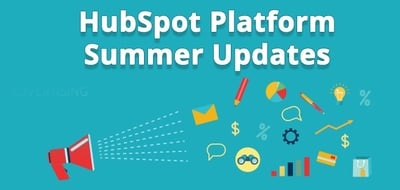 New Reports To Add To Your Dashboard
There are over a dozen new reports that you can add to your dashboard in both the HubSpot CRM and Marketing portals. You can fit up to 10 reports on your dashboard at a time. Keeping track of your analytics, KPIs and data allows you to measure the effectiveness of your marketing and sales efforts. Customizing your dashboard with these new reports means the information you need is always readily available.
These reports, which you can add to your dashboard in the reports library, include a rep revenue leader board, a deal stage funnel, won-lost bar graph perfect for sales teams, the ability to track marketing qualified leads by original source and new contacts by persona, and access more information about the companies in your database, such as days-to-close and new companies by first marketing conversion, which is especially important for B2B companies.
Add Emojis To Social Posts
Who doesn't love a good emoji? Show off your company's personality and boost engagement with your social media marketing by adding emojis to your posts. An emoji keyboard is now available in HubSpot social publishing for all of your social platforms. You can find it when creating a new post in the composer and clicking on the smiley face icon.
You can also add emojis to your email subject lines. With both social media and email marketing, test to see how your audience responds to the use of emojis in your content.
Lead Flows For All Account Levels
Lead flows allow you to create simple pop-ups on your website for lead generation, and are available for Basic, Pro, and Enterprise level accounts. Use lead flows to collect leads with forms right on the page, without clicking through to a landing page. You have the option to set up your lead flow as an overlay, a dropdown banner or a slide-in box. You can customize your pop-up to be triggered by exit intent, time spent on the page or scroll.
Pop-ups can be seen as annoying or even spammy, so make sure to use them sparingly, and follow inbound best practices. Find lead flows under the Content section of your account.
Tasks In Workflows
When you create a new Task in Workflows, you are now able to automatically set the Type, Title, and Reminder Date fields. Contact personalization tokens can also be added to the Task Title and Notes. Use these Workflows to notify team members of tasks and actions that need to be completed. This will help your sales team to stay on top of their lead follow-up. The Tasks you create will also contain information to make follow-up processes easier for team members.
Automatic Video Optimization
Using video in your marketing strategy is a key component for success. HubSpot will now automatically resize your videos and limit the streaming rate to 2.5Mb, so you won't have a file that is too large or doesn't play correctly. This ensures that your website visitors can easily watch and engage with your videos and keeps your site from being slowed down or pages from not loading.
Manage Users
You'll see that the user management section of your account has a new design and features. You can create groups of users with the new Teams feature to better reflect how your company operates. User permissions have also been updated, so that user access can be determined on a tool by tool basis so that everyone has what they need and isn't distracted by what they don't.