Nurturing the leads that your marketing efforts generate is crucial to closing more sales. Nurtured leads make 47% larger purchases than non-nurtured leads, and also have a 23% shorter sales cycle so it's not a step to skip. Creating a workflow allows you to nurture leads and move them down the sales funnel without a constant manual process.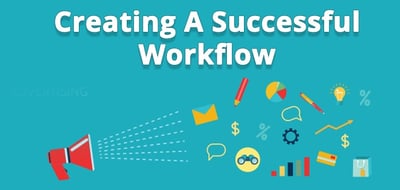 Think about the number of leads your company has each month and the number that sales interacts with directly. Could you provide each lead with the attention and information they need if you had to manually type an email to each one individually? It would probably be impossible to keep up.
Automation frees up time and improves efficiency while helping you to stay on top of your leads. It also allows you to pass along better sales qualified leads to your sales team. Follow these steps to get started creating your workflow.
Determine the Triggers
The sequence you create will be triggered by certain actions a visitor or lead takes or once someone is added to a specific list. Your first step is to determine what those significant trigger actions are. One example could be a lead visiting a certain page on your website, such as the products or features page. They could then be enrolled in a sequence designed to provide additional relevant content that supports the information on those pages.
A form submission on a landing page is another possible trigger event to add someone to an automation sequence.
Select Your Audience
You need to decide on the audience for the workflow, which will likely also be based around your trigger events. Segment your lists so that people can be assigned to a unique nurture process based on their characteristics. That way, you can better personalize the messages that they receive. For example, you wouldn't want to send the exact same messaging to someone who downloaded an eBook and someone who had signed up for a free trial because those actions demonstrate different stages in the buyer's journey.
You can segment and nurture your leads by buyer persona, buyer's journey stage, original source or whatever other characteristic is relevant for your business.
[DOWNLOAD]
Outline The Steps
Once you know who you will be building the workflow for, you can move onto the planning stage and decide on the specific steps of the process. This will include determining how many emails will be sent and their frequency, setting goals for each email or interaction, and identifying the content assets that will be sent in each email.
You should also consider how you want to handle actions people may or may not take. What if someone doesn't open the first email? You might decide to add an action, using "if, then" rules, that would send them the email again a few days later. Or if they do open the message, they will continue on through the remainder of the automation.
Create The Messages
Once you've got all of the planning finished, you need to actually put together the creative and write the copy for your emails. Don't forget about the subject lines for your emails; this plays an important role in getting people to open the message.
After the emails are finished, be sure to send a test so you can make sure everything looks the way you want and that all links and forms work correctly. If everything passes your test, you can take the sequence live and schedule for automation.
Analyze The Results
As with all of your marketing efforts, once the sequence is complete you need to analyze the results to see if it was successful. Look at the open and clickthrough rates for your emails, and CTA conversions or whatever action will demonstrate engagement with the message. Then you can make any needed adjustments to improve the workflow for further use. This data can help you to benchmark yourself for the future as well.