Have you thought about marketing your brand on YouTube? You might think it isn't right for your B2B business, or that people use it specifically for tutorials or entertainment. The truth is, YouTube can be a powerful marketing tool - when used right.
Perfect Timing
Now is the time to take advantage of video content. YouTube is a free, easy and popular channel on which you can promote your brand, products and services. These numbers below tell the story:
People are

64%

more likely to buy a product after watching an online video
YouTube is the world's

2nd

largest search engine and 2nd most visited site
Video will account for

82%

of global internet traffic by 2020
…you get the idea. Now here's why you might want to use it to your advantage.
[DOWNLOAD]
Benefits of YouTube for B2B Marketing
Get attention
Social media marketing could sometimes feel like you're trying to stand out in a sea of noise. If you develop a solid strategy as to what you want to achieve with YouTube, you can create captivating videos that could differentiate your brand from your competitors.
Got a complex software (SaaS) product to market? No problem. Video is the perfect format to show customers how it works and what benefits they'll get from it.
Rank higher on Google searches
According to Forrester Research, video is 50 times more likely to rank on Google's first page than plain text. Wondering how you can make it happen? Here's a tip: Focus on optimizing your YouTube content by using keywords in your title, description and tags.
Here's a great article on how to optimize videos for YouTube search.
Generate more leads and conversions
As you develop your YouTube channel, you gain credibility in your industry and reach a wider audience. This, of course, helps to increase leads and sales as visitors discover your content.
YouTube Marketing Best Practices
And now, here's what you've been waiting for. By understanding the market and benefits of video, the next step is to start building a solid YouTube marketing strategy. Take a look at the following 3 ways to make the most of this great marketing tool:
Blog: Video Marketing Strategy 2019: How to Take Advantage of the Latest Trends
1. Post product demos, webinars, live events and client testimonials
People may not always stumble upon your website when they're looking for a product or service like yours. To increase your online reach, tap into consumers' growing demand for video. Here's your chance to showcase your product by uploading explainer videos or product demos and webinars on YouTube. Sprinkle in a testimonial or two to show what kind of results customers have achieved with your company.
Do you attend in-person events, such as trade shows? If you said yes, then you probably invest time and money pre-planning, renting space, traveling to the event, etc. It's a good idea to take this opportunity to film your presence and your impact at the event. This could include shots of the venue, live interviews with your team, booth visitors or influencers.
Here's some inspiration:
NASKOR B2B Trade Show 2017 from hajodrees on Vimeo.
2. Add clickable links to reference other content
While you can add a link to in the description box below your video, people might miss it. Here's a better strategy that makes it easier for them to engage with you. Every time your video mentions another video or references other content, add the clickable link within the video. Here's an example of an end screen that hooks viewers to discover more of your work: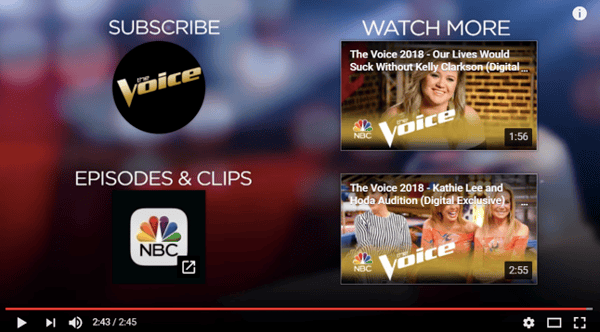 3. Stay active and engage with others
YouTube is a social platform like Facebook or Twitter, and engaging with other accounts can go a long way.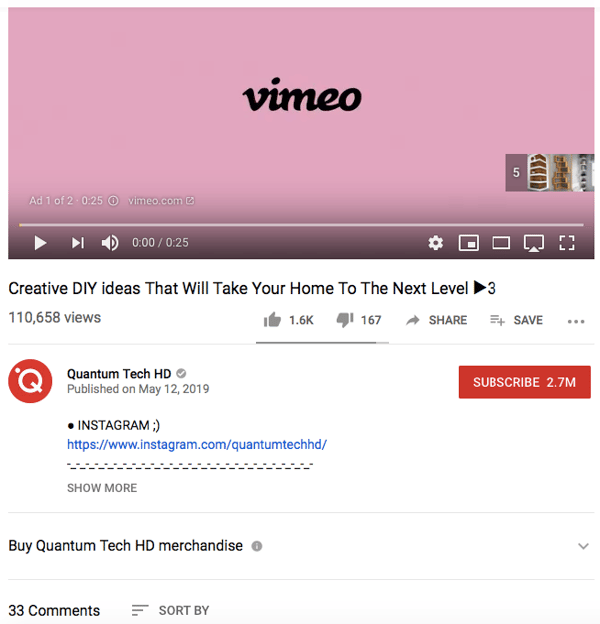 It's a good idea to like and comment on videos from other users, including influencers and industry thought leaders, that have a similar topic or interest as yours. This way, you can increase your brand exposure and attract viewers to your channel.