Keeping your skills up to date is important for your professional development and to stay on top of industry best practices and new ideas. One way to do this is through online courses, such as the HubSpot certifications offered through HubSpot Academy. These video courses only require a few hours commitment to complete, and are full of tips and tools that can immediately be applied to your company.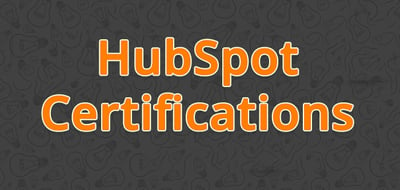 The courses are great for marketers looking to improve their skills in digital marketing, entrepreneurs who see the value in building a company around the inbound methodology, and job seekers who want to stand out in their applications. After passing the certification exam you'll receive a badge to use in email or on LinkedIn, and you can even print out a paper certificate to hang behind your desk.
With all of the certifications to choose from, you might be wondering which one is a fit for you. Here's a breakdown of each to help you decide.
Inbound Marketing
More than 50,000 people have taken advantage of this HubSpot certification. If you're new to inbound marketing or want to brush up on best practices, this course is a perfect option. It's also available whether or not you're a HubSpot customer. The certification takes 4.5 hours to complete, and covers blogging, landing pages, analysis, lead nurturing and how to put all of the pieces together.
[DOWNLOAD]
Email Marketing
The average person receives around 122 work emails every day. That's a lot of inbox clutter. Get the most out of every email you send by learning how to use lifecycle marketing, segmentation, deliverability, design, and analytics to create a successful strategy that follows inbound best practices with this certification.
Content Marketing
First, there is a difference between content marketing and inbound marketing. And through this course you'll understand the difference. Content is one of the most important parts of your marketing strategy. Make sure your content strategy is working as well as it can be by learning how to develop processes for consistent content creation and promotion that generate leads and turns them into customers with this certification.
Inbound Sales
Increase sales productivity by learning the inbound sales methodology and how to apply modern sales techniques to reach today's empowered buyers. You'll learn how to identify prospects and create personalized outreach and presentations. This HubSpot certification is perfect for sales associates looking to develop their skills and managers who want to improve team performance.
Sales Software
In this training, you'll learn how to effectively use the HubSpot CRM and HubSpot Sales software to support your sales strategy. This training will enable you to spend more of your time selling, instead of wasting it on recording data and other manual tasks. To get this certification, you'll need to pass the exam and complete a practicum.
Marketing Software
This certification is only available to current HubSpot customers. If you are a customer, this course will give you the technical skills you need and help you to make the most out of your software. Once you're finished, you'll be able to execute your inbound marketing strategy and effectively use the tools in HubSpot.
Growth-Driven Design
This course is designed for web and marketing agencies, and over 940 agencies in 50 countries have already completed this certification. The course includes training videos, templates, tools and case studies to help your agency apply the growth-driven design methodology for your clients.
HubSpot Design
This training is for web designers who are already familiar with CSS and HTML, and will show you how to use the tools in HubSpot and how to design custom modules. You'll need to pass an exam and practicum to become certified. You can also sign up for a free designers account, which allows you to design and sell templates for the HubSpot Marketplace.
Contextual Marketing
This course will turn you into a "master of marketing personalization," by teaching you how to create a unique user experience for every visitor through smart content and a personalized website. Each visitor's website experience will be based on who they are and what they're interested in. This certification is available to HubSpot customers.
Agency Partner
In this HubSpot certification course, you'll learn how to use HubSpot and inbound marketing to market, sell your services and grow your agency. The agency partner certification is available only to HubSpot partners. The agency partner program offers software, training, support and access to exclusive tools and resources to help grow your agency and better support your clients.