The shift from outbound marketing to inbound marketing has represented a change in how companies interact with people. More companies are adopting inbound marketing practices, which means more work to rank for the right keywords, or to get people to find you and your content.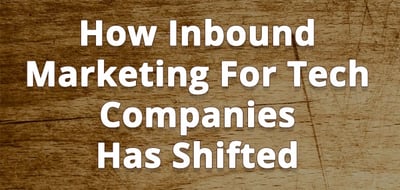 There are so many technology companies in the industry landscape that even getting found by potential customers, let alone seriously considered by them, is a real challenge.
Inbound marketing for technology companies requires taking on a whole new mindset. When selling a complicated and highly technical product, traditional sales methods would have a member of the sales team explaining the value of the product to potential customers. When people need a technology product, they aren't going to look for it through social media or a Google search, right? Not so much. Thinking that because of the nature of the product, people aren't going to use the same research methods like they do for less complicated products.
B2B Inbound Marketer found that 46% of buyers start their research for a solution with a search engine, followed by 18% going to a vendor website and only 4% looking to trade publications.
Technology companies also face a challenge of being driven by the engineering and product side over marketing. Many startups, for example, start with a great idea on how they can solve a problem. Then they build this awesome product, but can't get anyone to buy it. As great as your product is, it probably will never just sell itself. Using proven inbound marketing strategies will help your technology company to show the value of your product to potential customers.
It Comes Down To Content
Cold calling and only relying on a sales team isn't enough anymore. Content provides technology companies with an opportunity to educate potential customers in the way they want to learn. Marketing tech products can be difficult because people either don't think that they need it, or there are so many options for similar products that your company is not differentiating itself enough.
[DOWNLOAD]
Content is an extremely important tool for technology companies. The content you produce is a place to show off your expertise, or explain how your product provides a solution in greater detail. It's a place to become part of a conversation on what is happening in your industry. People are searching online first, so providing informative content that speaks to your buyer persona is an essential part of inbound efforts.
Speaking Of Your Buyer Persona...
The decision maker of a new technology purchase is not always the person who has the most technical knowledge. Developing your buyer personas requires market research, both for your product and industry. The content you provide will help to educate the decision makers as they move through the awareness, consideration, and decision stages of the buyer's journey. Not everyone will already know what they are looking for when they come across your company. Assuming they do could cost you a customer.
Focus On Analytics
Analytics continue to play an important role in inbound marketing for technology companies. Monitoring your efforts and using the data to optimize performance will set you up to do more of what is working well. Our world is becoming increasingly digital, so what worked for your company a few years ago might not have the same result now. Check for mobile-friendly options that will optimize user experience.
Channels Have Changed
Not only are there more channels available to use for your marketing efforts, but the ways in which they are used have also changed. What turns up on a Facebook newsfeed is different now. Instead of panicking over how to keep up with managing every social media channel, refer back to your buyer personas. Which channels will help you to best reach them? The best things about additional marketing channels are the opportunity to connect with more people. So make sure your social media strategy is working with your inbound marketing goals. Organic reach on Facebook has declined.
Embrace The Visual
Along with more channels, there's a higher value on visual elements in marketing.. A picture is worth a 1000 words, right? Pinterest and Instagram have only been around since 2010. Your social media strategy can't stop at Facebook.
Upgrade Your SEO
Changes in search engine optimization are one of the easiest areas to see change. SEO best practices have improved, largely in part to keep up with changes to Google's algorithm. Things that used to get your company found, or common practices like using a lot of random links or jamming in keywords won't work anymore, and will even work against you.
"Don't solve for search engine algorithms; solve for humans instead. The way to make Google happy, and get improved rankings is to figure out how to make searchers happy," writes Dharmesh Shah.
Inbound marketing for technology companies has shifted along with changes in digital marketing. Continuing to apply the fundamental principles will help your company adjust to future changes.