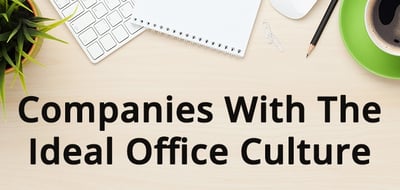 Today's workers are looking for a company that offers more than a salary and benefits. A full-time job means dedicating many hours of your life at a workplace, so it should come as no surprise that people aim for an ideal office culture that fosters a positive and motivating environment.
Creating a workforce culture that reflects the company's values and brand is as important as making sure that the needs of the employees are well nurtured to maintain productivity, retention and overall happiness.
When it comes to the ideal office culture, we can learn a lot from these companies that are doing it right.
Consistently rated as one of the best companies to work for, Google is not your typical corporate office. Inside the Googleplex quarters, you can see that work and play can go hand in hand. In fact, Google employs people whose sole task is to make sure their staff is happy. Here's how Google takes care of their employees: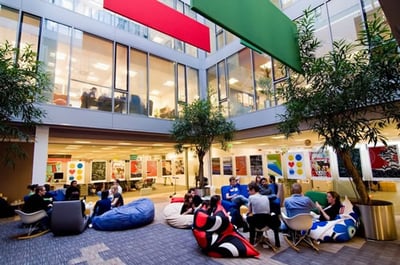 Free organic meals (breakfast, lunch, and dinner)
Nap pods
Free health and dental
Free haircuts
Free dry cleaning
Massages
Gyms and swimming pools
Hybrid car subsidies
Several lounges equipped with video games, pool tables, ping pong, and toys for employee's children
On-site physicians
Dogs welcome (but no cats)
iCracked, an on-demand tech repair company that fixes and sells broken smartphones and tablets, has a company headquartered next to a communal dock in Redwood City, California. This may sound like no great feat but employees get a kick out of one pretty sweet perk: full access to the company yacht! Employees take it out for a spin to relax on the water, reconnect with nature and enjoy the scenic views in Redwood Shores.
As a popular online marketplace that allows people to list and book accommodations around the world, Airbnb's unique culture literally lies within their homey office walls. Each space is designed to create a collaborative environment where employees can feel a sense of belonging. Their meeting rooms are set up as living rooms individually themed with cool concepts meant to inspire ideas. The building's interior looks like a trendy apartment with open spaces and walls that emulate different cultures.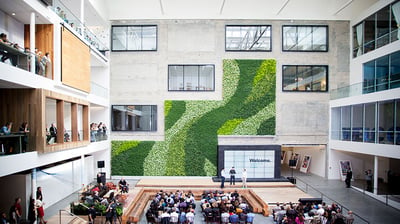 Did you ever hear of a company that wants their employees to get lots of fresh air during work hours? Well, now you've heard of Patagonia, the California-based clothing company where perks involve enjoying the great outdoors. Aside from setting their own work hours, employee benefits include surf sessions in the middle of the work day, outdoor work stations, riding the company bicycles, an organic cafe, and free yoga. Patagonia built an ideal office culture for their highly-rewarded employees by boosting productivity and a healthy lifestyle.
Being the newest hire at a company can be intimidating and exciting at the same time. Boeing supports new employees by setting them up with community service opportunities and social activities. As the world's largest aerospace company, Boeing promotes skill and learning development within the industry by paying for their worker's graduate-level education at certified universities.
Microsoft aligns their values and beliefs to that of their worker's needs. What sets them apart from many other companies is recognizing the importance of family home life. Microsoft provides 20 weeks of paid maternity leave to new mothers and 12 weeks of paid parental leave for new fathers. In addition, other major benefits include mentorship support programs and health care coverage for the treatment of autism.
Some offices can be so bleak and boring you just want to scream. The same cannot be said about this Spanish architecture company. Located in a forest in downtown Madrid, the office was thoughtfully designed to create a unique workspace environment where employees can feel like they are almost entirely immersed in the woods. The tube-like space is encased by a glass wall from which boasts colorful views of surrounding trees. Employees can relish in natural lighting during the day and star gaze when it gets dark.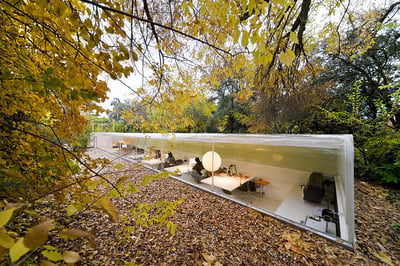 Netflix really cares about their employees. They have created an ideal office culture based on employee trust and freedom, implementing a no-questions-asked policy. Employees benefit from unlimited vacation time, and flexible work schedules. To top it off, mothers of newborn babies are granted a year maternity leave.
One of the many values Burton promotes is an active lifestyle for consumers and their staff. As a manufacturer of snowboards and gear headquartered in Burlington, Vermont, their employees reap cool benefits. If it snows 2 feet or more, the office officially closes for 'snow day' where employees ditch work and hit the slopes. All employees receive free season passes on the slopes and get to enjoy a skate park behind the office.
Companies like Accenture that are at the top of their game can add perks that go an extra mile. As part of their pledge to support the LGBT community, Accenture pays for gender reassignment surgery for employees.
Zillow has the right idea when it comes to taking care of new mothers in the workplace. This online real estate agency provides fully-equipped nursing rooms with hospital grade pumps and fridges. Wait, it gets better. Zillow pays for overnight shipping of breast milk for their traveling employees and pays for infertility treatments too.
First impressions are important. That's why Twilio gives new employees a welcoming start by giving them a kindle and $30 a month to purchase books.
An ideal office culture is where employees feel nurtured and strive. Evernote, a note-taking app startup takes care of employee's housekeeping so that they come to work with less worries on their minds in order to be more productive at work. Employees get free professional housecleaning twice a month and unlimited vacation (as long as the work gets done).
Clearly, you're trying to attract millennials with the ideal office culture. Why not start attracting millennials with inbound marketing practices to purchase your products or services?