As you plan and begin to execute your 2016 marketing and communication plans, be sure to incorporate video into the fold. It is no secret that video marketing continues to dominate the industry, but what does that mean, exactly? And how does it help your business grow?
Here we will take a look at some critical numbers that truly illustrate why you need video this year.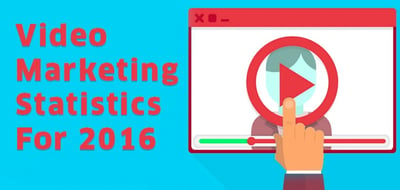 The Importance Of Video
The cloud-based video solutions experts at Brightcove share the following critical statistic to help kick off 2016: Social video generates 1,200% more shares than text and images combined.
Wow! So that means, just creating a high-quality video will automatically ensure more shares. And, 4 times as many consumers would rather watch a video about a product, rather than read about it (eMarketer). This leads us to believe that words are out and video is in!
Furthermore, Brightcove reports that video drives a 157% increase in organic traffic from search engines, while MarketingLand claims that 62% of Google searches include video. And, it's not just search engines—Google reports that "how to" searches continue to increase on YouTube; up to 70% each year.
So, the take away from this is that video is an absolute must to increase your SEO and the amount of shares you will get on social media. But, be aware—the video must be high quality, as poor quality video will give consumers a negative perception of your brand (Brightcove).
Video For Conversion And Growth
So, once you create that stellar video, how will it really affect your business' bottom line?
Well, you will definitely grow faster than your competitors. In fact, businesses using video grow company revenue 49% faster year-over-year than organizations without video (Aberdeen Group).
Of course, marketers are some of the biggest advocates of video for business communication. 70% of marketers claim video generates more conversions than any other type of content (Vidyard). Aberdeen's statics supports this contention stating that the average conversion rate for websites with video is 4.8% versus 2.9% for sites without. And, 52% of marketing professionals worldwide insist that video is the type of content with the best ROI (Social Media Today).
Millennials And Mobile
Statistics and projections continually purport that Millennials are a huge target market and that video is the best way to reach them. The numbers tell the story: 74% of millennials find video helpful when comparison shopping online and 60% much prefer watching a video over reading a newsletter (Animoto).
And, it's not just the Internet generation. Adobe tells us that 40% of all consumers state that video increases the chance they'll purchase a product on their mobile device. Twitter seems to have cornered the market on mobile video viewing with more than 90% of their video views happening on a mobile device. But YouTube is not far behind with more than half of their global watch time being mobile-based according to the company.
The bottom line is that you need to incorporate video—high-quality, mobile-friendly video—into you business model. Remember, it's not just the younger generation who is drawn to video, Generation X and even Baby Boomers are seeking out and expecting quality content in the form of video. Don't get left behind! Start a video marketing campaign today!
Need help building video into your social media campaign? Download this free guide to uncover some invaluable tips and check out our 25 website 'must haves' to garner leads.