When was the last time you paid attention to a pop-up ad on a website, or answered a call from a strange phone number? As a customer, most people now tend to shy away from outbound marketing techniques. These disruptive methods that distract and usually annoy people aren't an effective strategy for your business. Wouldn't you rather draw people to your company naturally? HubSpot says that inbound marketing is "the best way to turn strangers into customers and promoters of your business." And by using inbound techniques, businesses save more than $14 for every new customer acquired (State of Inbound Marketing).
So if all of this sounds good to you, and if one of your resolutions for the new year is to begin implementing an inbound marketing strategy, then here is what you need to know to get started.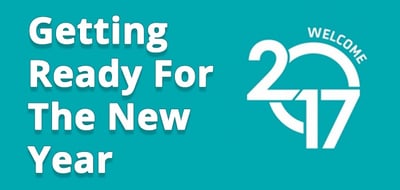 Buyer Personas
If you're new to inbound marketing, you might be wondering how much you actually need to do in order to see results. One thing that is essential is creating buyer personas, which will become part of the foundation of your marketing strategy. Buyer personas are semi-fictional representations of your ideal customers. In all of your marketing efforts, you need to think about how what you are doing provides value for your personas.
You can start developing your buyer personas through market research and evaluating your current customers. Look for trends and similarities among people. Do they have similar job titles or work in a certain industry or company size? Where do they live geographically, and is it in the city or suburbs? What might their biggest challenges be? Note additional demographics such as age, marital status and educational background.
All of the information you gather to form your personas will be used to determine how to best reach your target audience. Everything you do needs to be relevant to them. Think about what their problems are, and how you can provide a solution. The more you know about your personas, the better you can customize your messaging to be relevant and interesting to them.
The Inbound Methodology
There are four stages of the inbound methodology: attract, convert, close, delight. They are used to turn strangers into visitors on your website, who then become leads that convert into customers and hopefully become promoters of your company in time. At each stage, you are attempting to attract people to your company and move them through the sales funnel using content.
HubSpot's methodology recommends certain strategies and content, though interchangeable, to focus on at each stage:
Attract: Blog, Social Media, Keywords
Convert: Calls-to-Action, Landing Pages, Forms
Close: Email, Workflows, Lead Scoring, CRM
Delight: Social Media, Smart Calls-to-Action, Email
Content
Content is at the heart of inbound marketing. According to the Content Marketing Institute, 80% of business decision makers prefer getting information about a brand through an article series over ads. One of the best and simplest ways to share content with your audience is through a blog, which will also drive traffic to your website. You should shoot for blogging 3 to 4 times a week.
Include enticing calls to action in your blog posts to convert visitors to your website into leads. You can then set up lead nurturing workflows to move your prospects through the buyer's journey. Kapost reports that inbound yields 3 times for leads per dollar spent than traditional marketing methods, so be consistent and stick with it. The results will be worth the effort.
Social Media
Once you've created some premium content offers and are posting on your blog regularly, it's important that people can find your content. Social media is a platform to promote your content and to participate in dialogue surrounding your industry. Social monitoring helps you to better understand what interests your buyer personas so you can continue to create content that is interesting and relevant to them.
Analytics
After you have put in all of the effort to develop your buyer personas and begin creating content, it is important to see how your efforts are paying off. Analytics will show you what is working, and where adjustments should be made so that you can optimize your campaigns. You can also learn more about your buyer personas, which will improve your marketing strategy. Analytics are crucial for understanding the ROI of your strategy, and proving that your investment in inbound is benefiting your business.