To stay on top of the ever-changing world of sales, it's always a good idea to get a boost with effective training. As you and your sales team work together with the beat of reaching your goals, it's imperative that you remain competitive. A practical course can certainly improve your areas of weakness and increase your overall sales productivity, and can improve your sales performance by 20%, according to SalesForce Training.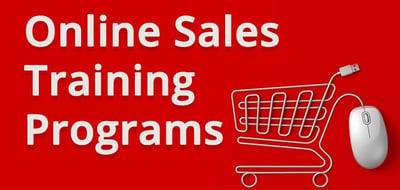 Whether you want to train your existing sales team, to refresh your selling skills, or even if you're totally new to the profession, we picked out 10 online sales training programs/courses to help you achieve greatness.
[Download]
The focus of this 6-8 course is improving on the area of sales performance, particularly a salesperson's selling skills and a manager's ability to coach. The training, which is priced at $195, includes engaging modules and videos, as well as a certification assessment that pinpoints your strengths and weaknesses.
Notable for its highly customizable and personalized online training exercises, Mindflash tailors your courses into quick lessons and quizzes. A free trial is available so that you can see if it's the right sales training solution for you.
Need to develop skills in presentation, prospecting, or leadership? Rapid Learning Institute offers an array of lessons on the fly that focus on key concepts of your choosing. What's more is that they post insightful free videos on their blog.
For those seeking an extensive library of valuable resources at zero cost, sales trainer John Barrows is your guy. His website offers actionable and to-the-point training videos, webinars, and more.
Another top option for those looking for free training is HubSpot Academy that offers five classes of 30-minutes each. According to HubSpot, the program is designed upon the same sales training that their salespeople used to grow the business from $0 to $100MM in revenue. Ideal for reps or new hires, the content focuses on inbound techniques.
Operating in 50 countries and in 14 languages, SPI offers a good range of programs some of which include Complex Opportunity Planning, Targeted Territory Selling, and includes a few courses encompassing healthcare. The website had a resource page and an educational blog to boot.
Named as the one of the top 20 sales training companies of 2016, according to Selling Power, Wilson Learning provides webinars and workshops on a range of learning topics - check when their upcoming workshop is set to take place online!
This training/consultancy company definitely isn't lacking in tools and knowledge. Be it for individual professionals, small teams, or large corporations, Rain Group's training offers over 85 lessons which can be customized to fit your interests and needs. Training comes equipped with the works: audio, video, planners, checklists, etc.
SalesBuzz provides live online video sessions for up to 60 minutes followed by exams each week. The program records all of their live workshops for you to review any time, and offers live chat and a course workbook. Content focuses on structured training, covering the basics from capturing a prospect in the first few seconds of a cold call to follow-ups and referrals, and time management.
Brandishing a rich library containing tips, video, and articles and e-Books, Janek's approach combines modern and traditional training methods with a personalized touch.